A piece of dangle bead can be created very easily by following these instructions. And that's also the steps how our designers create this cage dangle bead.
Tools and Materials required:
3 Red Crystal Beads
,
A Piece of Flower Pattern Bail
, Bead Cage,
Bent Nose Pliers
, Open Jump Rings
First
, we need to place the crystal beads into the cage.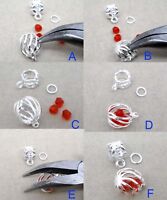 A-B:
insert your bent nose pliers between two bars of the cage, and then gently spread the bars to create a hole in the cage. The hole should be large enough to put beads.
C-D:
put the beads inside the cage (we are putting three 4mm crystal beads in the cage center)
E-F:
after the beads are placed well, now we will use pliers to clamp the bars of the cage closed. Please be careful to maintain the cage's shape.
Second
, we are going to add the finished bead cage to the bail.
As the picture showing, use pliers to open the jump ring and connect the bail and cage together with this jump ring.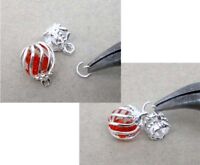 Finally
a beautiful dangle cage bead is done~~