A bomboniere is a traditional Italian net wedding favour which contains 5 sugared almonds (to signify Health, Wealth, Happiness, Long Life and Fertility). They are becoming more popular again now so many couples are choosing to make them themselves with the many colourful favour nets that are available now.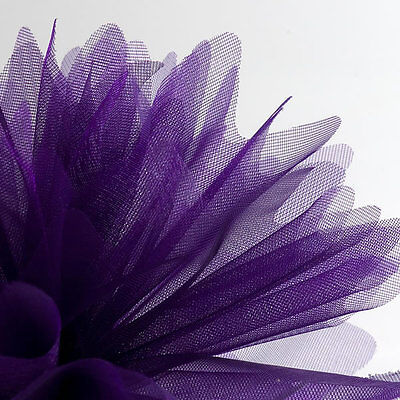 Your first step is to choose the type of favour nets you'd like. The most cost effective is the fine mesh tulle net - this is an open weave netting that has a pretty scalloped edging. Next you have beatiful organza cristal favour nets, with different edgings depending on what kind of effect you'd like to achieve. The peaked edged nets make for a more modern looking favour whereas the scalloped edge looks more traditional and delicate.
Once you've decided the type and colour of your nets you'll need to assemble everything you need to make your favours:
You will need:
Favour nets - allow 3 per favour
Favour saucers - to hold your sweets
Tiny elastic bands - to use as a 'third' hand
Ribbon to tie your bomboniere
Flowers or sprays for the centre (if required)
Directions:
1. Place your favour nets on a flat surface and align edges exactly.
2. Place a favour saucer in the middle of the favour nets, and put your filling (this can be confectionery or dried flowers, maybe) in the saucer.
3. Cut your ribbon to length – if you're using curling ribbon, remember to add plenty of length for the 'curls'.
4. Bring up all the layers together from opposite sides of the four points of the compass, and hold together in the centre above the favour dish. Then gather in the edges in between these points, so that you have effectively gathered the layers together from 8 points around the circle. Place a small rubber band over the gathered tulle (this will give you two hands to work with)
5. Take your length of ribbon and tie as tightly as possible around the 'neck' of the bomboniera, finish with a bow if desired. Remove the rubber band.
6. Separate the layers of the tulle by firmly easing the bottom layer in a downward motion and inner layer(s) in an upward motion. this must be done all the way round to give the best effect.
7. Finally, add your choice of flower by pushing firmly into the centre. If using more than one flower we recommend you twist them together first.
Note - ideally you should be able to pick up the finished bomboniera by the flowers - if the flowers fall out then tie the ribbon tighter.
To find some inpsiration for your handmade wedding favours why not browse our favour nets categories in our eBay store where you will find lots of different types of favour nets in a lovely selection of colours. Making these types of Italian wedding favours is now becoming more and more popular so there are plenty of products you can buy to help make them look wonderful.