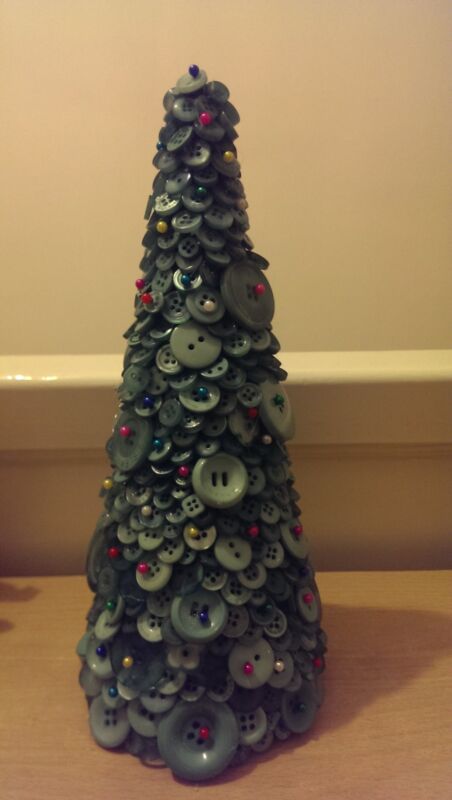 What you will need...
A polystyrene cone - I used a 25cm one
Green material (sufficient to cover your cone)
A glue gun
An assortment of buttons in your choice of colour(s) (for my 25cm tree I used around 250g of assorted green ones - purchased for 'buttons' on e-Bay!)
Berry/pearl pins or your choice of decorations
Scissors
Time
Approximately 2-3 hours for your first 25cm tree (smaller trees take less time and you'll naturally get quicker as you get the knack)
Method
Prepare your work area - if you're working on a surface that you don't want to get glue all over, cover it up with newspaper! Plug in your glue gun

Cut sufficient green material to cover your cone. Glue one end of it to the cone, then wrap it around and glue the other end to the cone as well. This means that any small gaps between your buttons will be green, not white, so won't be as noticeable

Spread your buttons out on your work surface so you can see what different kinds you have. The most difficult part of this craft is making your button placement appear to be 'artfully random'! Set any one-off or particularly unusual buttons that you want to be prominent on your tree to one side (my selection, purchased from the seller I've linked to above, contained a few pretty little butterflies as well as unusual shapes and textures)

Once your glue gun is ready, start selecting buttons - add a dot of glue and stick them to your cone. It's that simple! After a couple of tries, I found it easier to start gluing from the bottom up. This allowed me to 'tile' the buttons on top of each other and create a pretty, textured effect. Try to mix up different sizes and shapes of buttons but be careful to avoid sticking particularly large ones to the narrow top of your cone, otherwise they won't sit right. Keep sticking until you reach the top.

Don't worry about trying to remove the wispy bits of glue that will form around your tree, wait til they're dry and they're much easier to remove.

Once your tree is dry, decorate however you want or leave it au naturel! I used some multi-coloured berry pins which have the added benefit of helping to hold any loose buttons in place. You could use tiny jewellery charms, bells or whatever you like - I've found that gently pushing sequins between the glued buttons creates a beautiful, sparkling effect.

The trees look lovely on their own or why not make a group of varying sizes and create a miniature forest?!



I wrote this guide as part of a Bzzagent campaign :)