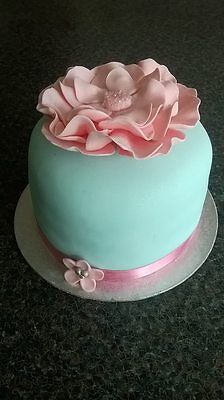 Make your celebration extra special and even more memorable with a hand decorated cake that will wow.
Equipment and ingredients.
- Enough fondant for desired cake size.
- Corn flour
- Food coloring paste ( optional )
- Butter cream or apricot jam
- Rolling pin
Method
- Add color if desired and knead until soft and workable.
- Lightly dust a flat work surface and rolling pin with corn flour.
- Roll out fondant keeping even pressure. Lift and rotate the fondant as you go and add more corn flour if needed to help prevent sticking.
- If air bubbles appear in the fondant pop them using a clean pin and smooth over.
- Roll until fondant is bigger than your cake and is approximately 5mm thick.
- Coat your cake with a thin layer of butter cream or apricot jam.
- Gently lift your fondant over a rolling pin taking care not to stretch or tear the icing and position it on the cake.
- Using the palm of your hands or a smoothing tool to smooth and shape the top and sides until smooth and silky to touch.
- Trim the excess fondant with a sharp knife.
- Now you're ready to add your decoration.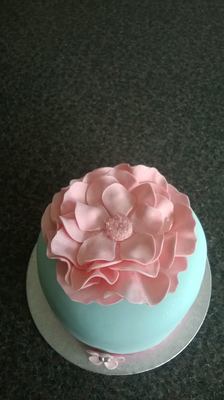 Flower topper
YOU WILL NEED-
Rolling pin
Flower paste
Blossom cutter set
Balling tool
Foam pad
Edible glue
Small paint brush
Shallow muffin tray and small bowls
Sugar balls or crystals
Food coloring paste ( optional )
Method
- Add color to flower paste if desired and knead.
- Lightly dust your surface with cornflower and thinly roll your flower paste
- Press the largest cutter firmly into the paste repeat twice for each size cutter.
- Place flower onto the foam pad and press firmly around the edge of each petal to shape the petals. Place the larger flowers into lightly dusted bowls and the smaller ones into the lightly dusted muffin tin.
- Allow the flowers to dry for a few hours.
- Once dry remove the flowers from the containers.
- Paint a small amount of edible glue in the center of one of the biggest flowers and place the same sized flower on top so that the petals from the flower below show between the top petals.
- Repeat this with the remaining flowers.
- Paint a small amount of glue into the center of the flower and gently place your sugar balls or crystals.
- Put a small amount of glue on top of your cake where you want the flower to sit and gently place your flower.
- You can finish the bottom edge of your cake with ribbon or small fondant decorations to neaten it up and hide any rough edges.
You should now have a fabulously beautiful cake. Thank you for reading my guide.
This Guide was written as part of a Bzz campaign.