This holiday I have given myself a little project. Well I say little project what I mean is actually quite a large project! It all started when I found an old book in a market. It was just about the right size to make a real show piece.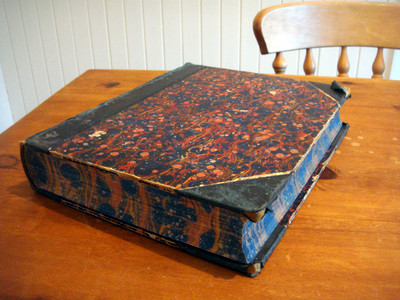 This is the culprit. It's pretty haggard and looks a bit sorry for itself. Plus some mentalist thought it would be a good idea to paint the edges of the pages with psychedelic paint...
First things first, we need some tools!
What do we need?
Assorted
pens
to mark out areas, write over text and fine line paintings.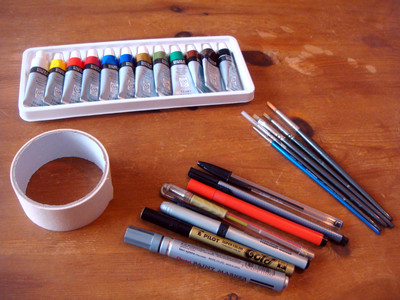 Acrylics or watercolour
paints
to paint over the old pictures in the book.
Different
paintbrushes
, you can get a nice assortment for quite a good price from any art store.
An essential is
masking tape
to tape off areas you don't want spray or paint to get onto, edging pages springs to mind.
A
scalpel
to cut the masking tape neatly and to trim any nuisance bits off the book.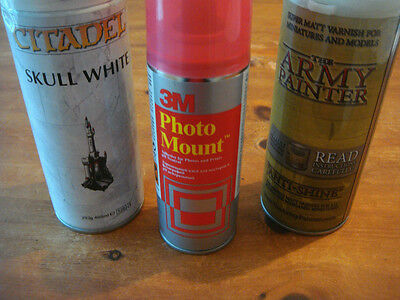 Different purpose
sprays
to fix the paint, glue pages together or affect repairs of old pages and to undercoat stubborn pages that need a new surface.
Finally
metallic paint pens
, my absolute favourite creative thing! These are what will save the edges of the pages from that nasty psycho paint job!
Just about whatever else you can get your hands on :)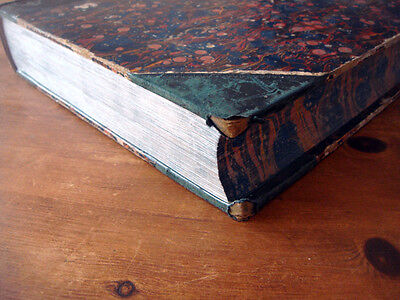 What are we going to do with all this stuff?
Firstly I simply had to get rid of the LSD effect on the page edges.
So I took the silver paint pen to the edges of the book with a vengeance! Here you can see I have done a side of the book. Once dry I will give it another coat to make sure that insane pattern doesn't show through later when the paint fades.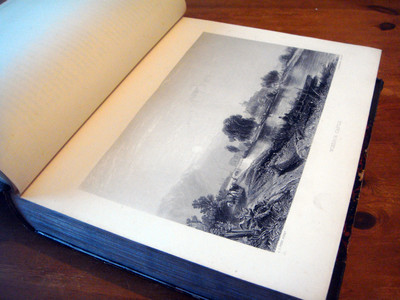 As you can see the paint pen has done a good job of covering the pattern. Make sure you get "opaque" ones.
Then I tested the paper with the water colours and did a couple of paintings in the book covering up old pictures of whatever was in there before. This is important as it gives you an idea of how the paper will react to paint, spray and water. To do this I just found a random page and painted a couple of stripes in different paints, sprayed the page with different sprays and just figured out what wouldn't ruin the paper.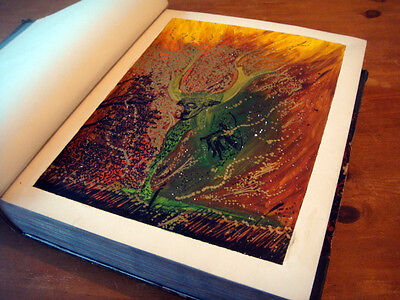 Here you can see an old picture, quite wonkily printed into the book. This won't be here for much longer!
I taped the edges of the page off with the masking tape and then undercoated the page with a coat of paint. I waited for it to dry and then started on my way with intricate details using the pens and metallic markers. Opposite is what I came up with. Once finished I removed the tape and gave it a coat of varnish to prevent any loss of the paint into the opposite page.