Baby Hand/Foot Casting
We all want to cherish our little ones and keep the memory of them being so small, with endless photographs, memory boxes filled with hospital bands, cards, first outfits, memory books etc etc, but I always wanted an actual physical reminder of how small their tiny little feet/hands once were.
After looking at companies who offer to do these wonderful foot/hand casting products, I was put off by the price it cost and confused at the different types of casting sets there were, from the simple painted foot on paper to the moulded foot so I decided to do some research and give it a go at home.
There are lots of different ways in which to create foot castings but this one worked for me and was relatively easy to do. I bought all the materials separate and not in a kit format so it was cheaper, (one of the benefits of doing this was that I didn't have to worry that I had one chance to do it otherwise the kit would be wasted) and there were plenty of left over materials so I could re-do it if it went wrong!
Hopefully this guide will help you along the way. My guide is to help you make a replica of your child's hand/foot which can then be left as is or mounted into a photo frame
What you will need:
For the Mould
Alginate Powder (this powder when mixed with water makes the mould of you babies hand/foot - it is seaweed based and non toxic)
Water
A container which is big enough to fit the hand/foot in (but not too much bigger as you will use/waste LOTS of the Alginate) try a food bowl/takeaway container/measuring jug.
A measuring Jug
A fork
These materials will be used to make the mould of your child's feet, you also need the following materials in order to make the actual cast of your child's hand/foot.
Plaster of Paris
Water
Measuring Jug
Fork
Where to start/Top tips
Make sure you have the equipment for both the mould and the cast - most of the time the mould will soften after a period of time, so you need to make sure you cast the mould as soon as possible.
Make sure you have all equipment to hand as both the mould and the cast set quite quickly.
When taking the mould, do it on a hard wipeable surface as things can get messy.
For ease, you can sit your child in a suitable highchair whilst taking the mould. Alternatively place the container on the floor so you can make your child comfortable whilst making their mould.
Try your container - make sure it can comfortably fit your child's hand/foot in with room for the mixture - don't use a container that it too big as you will need to mix a lot of alginate powder to fill it.
Don't stress! little finger or toes may wriggle but unless the hand/foot is completely removed whilst setting, it shouldn't effect your finished cast.
How to make the mould

Mix the alginate mixture to the manufactures recommended instructions (generally an equal level of water to powder.
Pour the mixture into a suitable container that is big enough to fit both the mixture and your child's hand/foot. Make sure that your child's hand/foot is mostly covered with the mix - it doesn't have to be fully covered up to their ankle/wrist just covering the sole of their foot/toes or the palm of the hand/fingers will be sufficient.
Place your child's hand/foot into the mix, and keep it in the mix until it is set. (this is easier to do if your child is sitting in a chair or being held by someone else, or place the container on a hard flat surface and gently hold your child's hand/foot in the mixture). You will know when the mixture is set as it turns from a runny consistency to a rubbery solid consistency.
Once the mixture is set gently remove the hand/foot from the container (the length of time this takes can vary according to the instructions and can be up to a few minutes - which seams like a lifetime if your child is wriggling!)
You will then have a finished mould! (although it generally does just look like a block of rubber!)
How to make the Casting

Now you have your mould, you need to make the actual casting of their hand/foot.

You will need to:

Mix the Plaster of paris to the recommended manufactures instructions, being careful to get all the lumps out.
Once mixed. pour the mixture into your mould carefully, making sure you move/tap the mould frequently to get the plaster of paris in all of the little crevices in your mould.
Once filled, leave it to set. The length of time it takes to set varies.
Once your mould it set you can carefully remove the whole block from your container and gently start to pick off the alginate mould from you plaster of paris cast.

Its easier to do this with a small knife/toothpick (especially around the small features like the fingers and toes).
Be careful and remove the alginate in small pieces as you may damage the casting if taking it off in big chunks. Use the toothpick to get between the small crevices in-between the fingers/toes. Make sure you remove all of the mould from the cast.
Once removed from the mould, leave the cast to fully dry for a few days in a warm/dry environment.

You should then be left with a replica cast of you babies hand/foot which can be smoothed out with a gentle rub with sandpaper/nail file and kept as is, or painted and mounted in a frame.

I have written this guide as part of a Buzz Campaign.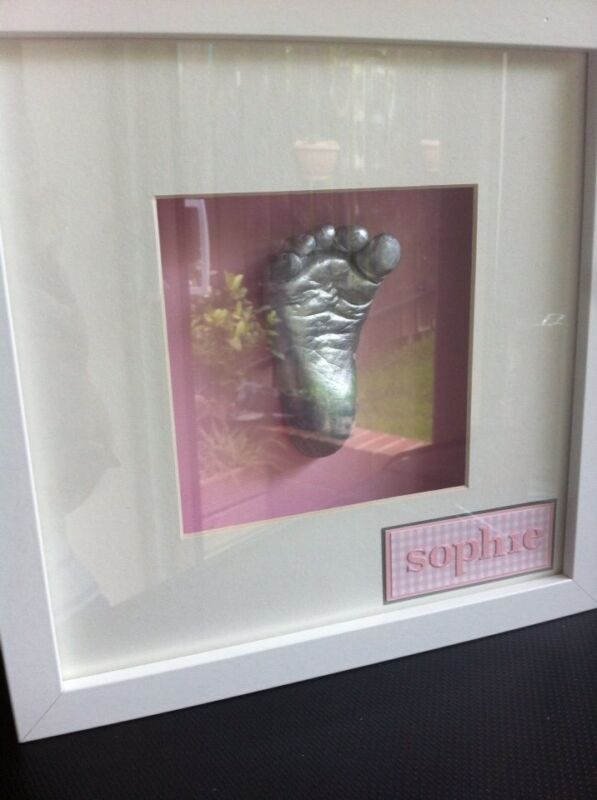 Add a caption
Finished Cast!! all handmade (sorry about the reflection of my garden in the glass!!)