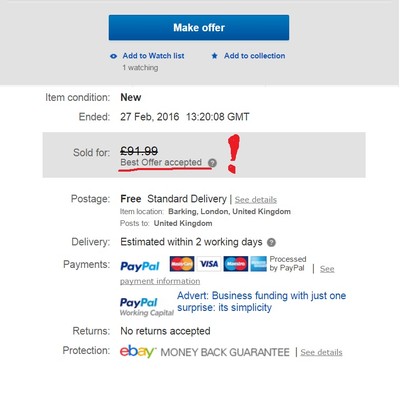 Be realistic!
eBay offer the feature make a best offer to seller. I decide write this guides as I personally receive every day "best offers" as example:
Buyer want to sell NEW item for £89 + free delivery but he activates "make an offer" button.
Only way that I can explain this is that some of buyer probably see different sigh similar to "50% or 80% discount" or "half price" and start offering £20 - £40 to the seller.
I will not write lecture how to set up selling price, but let's count together, from £40 the seller will receive in cash approx. £30.60 after all fee and postage paid. It is ok, if seller received item for free (what is unlikely, especially when you see 5-10 item in stock) he can play with a price, but most of sellers invest a lot of money to buy wholesale stock for resealing, and usually price paid is as little as 25% from selling price. In this case: from original £89 price seller will receive £5-£12 profit, after eBay, PayPal fees and delivery costs, the "best offer" could be acceptable in rage £2-£7, but no way £40.
So when you make an offer you have to be realistic and do not waist your and seller time.
I hope this guides will stop some buyers wasting time.