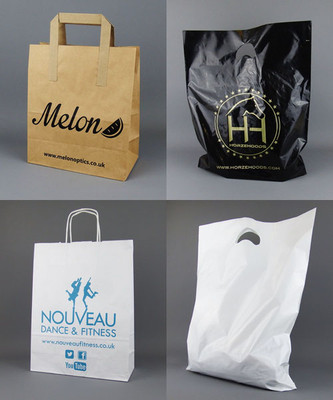 THE PERFECT PRINTED CARRIER BAG IN 3 STEPS
Fashion and accessory retailers, gift shops, salons, gyms, local councils, churches, clubs, museums, restaurants, IT firms, schools, sales promotions, trade shows and conferences… these are just some of kinds of clients and uses we have supplied. In the process we have developed three simple steps leading to complete customer satisfaction.
1. Define the purpose
The perfect carrier bag is the one that's right for your customers, right for your product, right for your image. To make sure it's fit for purpose ask yourself:
Is the carrier bag just for customer convenience?
Should its quality and design reflect your brand values?
What type of items go inside – e.g. heavy, bulky, small, fragile, hot, single, multiple? are the eco aspects important to you?

2. Choose the material
Once you've identified the end-use, we can help you select a suitable material – paper, plastic or cotton.
Paper
[
link
] Recyclable, minimum order for overprinting - 150
Kraft flat tape handle in white or brown in three different sizes
Twisted handle quality in four different sizes and a variety of colours
Laminate deluxe thicker gauge with glossy & matt finish and rope handles
Plastic
Minimum order for overprinting – 250
4 different sizes

Wide choice of colours
Cotton
Reusable, minimum order 50
Plain
in paper, plastic and cotton in four sizes and a variety of colours.
3. Agree the design
A printed carrier bag is a portable poster whose quality of design conveys your pride in your product. Email the artwork (logo, message or event title) together with the code of your chosen bag . We'll adapt it for printing on bags. Or use our graphic design skills to create a custom design. We'll email back a PDF proof.