Since most people seem unable to parcel up a comic or book so that it survives the postal system intact we thought we'd write a guide on how we do it. We have had good feedback and praise for our packaging and know how disappointing it is to receive something that's been damaged due to shoddy packing, so hopefully we can pass on some tips.
The first thing to note is that we don't generally use board backed envelopes or padded envelopes without any additional card to stiffen them. In our experience they are useless for comics and books because they either get bent or the items can move around inside and become damaged.
So here is our step by step guide...
1. Take your comic and make sure it is bagged and preferably also has a backing board to ensure that it stays dry and flat even if the outer packaging becomes wet or damaged.
2. Choose an envelope that is bigger than the comic - an A4 size is best - and write on in red marker pen 'Please do not bend'. Next write on the recipient's address from the packing slip in black pen.
3. Next take a piece of cardboard and cut it just smaller than the envelope to allow for the comic and another piece of card to fit inside.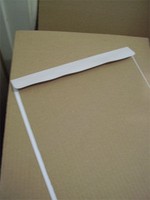 4. Now for the crucial bit! You now need to get another piece of cardboard that has the corrugations running in the opposite direction to the piece you have just cut in order for the two pieces to have the greatest tensile strength when you put them together. We use a piece from the side of a box for this. Use the first piece to cut the second to the same size.
5. Now place your comic and the packing slip in the centre of the first piece of card so that all of the sides will be protected and place the second piece of card on the top. Put a piece of parcel tape on each side and then tape all the corners to make sure that they are strong and the comic can't move around inside.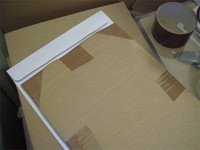 6. Now you should be able to slide the whole thing into the envelope and seal it. Put your return address on the back and seal all the edges with clear tape so that they don't come up and catch on the sorting machines and you are ready to post. Unless you have a lot of comics you have packaged together you should be able to post it easily as a large letter rate.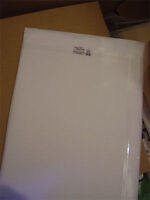 For magazines we often find we have to extend the envelope at the side as it's not always easy to find larger sizes but we usually still manage to pack them within the large letter maximum size. For several comics, you can usually pack a few individual bagged and boarded comics just as easily as one and we bag sets together for ease of packaging.
I hope that we have given some useful tips on how to package a comic so that your buyer will be pleased with their purchase and you won't spend a fortune on padded or board envelopes that don't do the job.