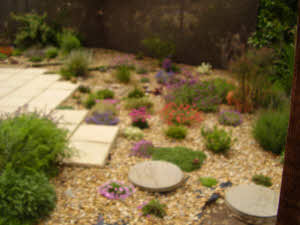 It is really good to have colourful plants that spill over onto the paving slabs or ones that soften the edges of a pathway.
But the plants must be able to withstand being trodden on from time to time! Patio's and paths can get very busy.
You don't want soft stemmed plants that end up looking rather tatty and ugly.
The picture shows a patio that had been planted about two years earlier.
If you have got some gaps between the paving slabs, then you can plant between them.
Or, when you are laying the slabs, then leave one or two out which can then have several plants in that space.
All around the edge of the patio you can again have these low ground hugging plants that tolerate being trodden on.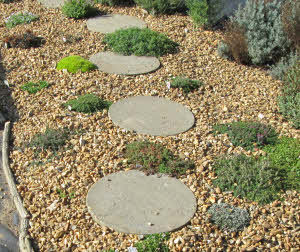 The picture to the left shows a newly planted area with stepping stones (part of a demonstration garden at Boundary Nursery).
Obviously these plants will spread out and fill in those spaces.
A fine gravel or shingle is good to put down around these plants to reduce the number of weeds and it looks great.
You do need to buy the specific plants for these situations, search for 'plants for pathways'.
Here are just some of the plants that will tolerate being trodden on:
Arenaria caespitosa aurea - spectacular golden carpet with a multitude of tiny white flowers in the early summer.
Campanula muralis, Resholts, E.K. Toogood, etc – Violet, bell flowers all the way from spring to the autumn. It is just about evergreen through the winter.
Antennaria rosea – Charming rose pink flowers in spring popping out from a low silver carpet. Remains silver and green through the winter.
Silene uniflora Druett's Variety - cream flowers in the summer over variegated foliage.
Thymus serphyllum types like Coccineus, Russettings, Minimus, Pink Chintz, etc – Vivid flowers in the late spring and early summer. Semi evergreen over winter.
Lawn Chamomile – extremely fragrant evergreen foliage.
Pratia pedunculata – masses of blue flowers on a large green carpet through the summer and autumn.
Veronica prostrata types, like Lilac Time, Mrs Holt, nana, etc – deep blue or pink flowers in the spring.
Sedum album Coral Carpet, or Golden Queen – white, or yellow flowers in the summer over coloured foliage.
Silene acaulis - stemless pink flowers with red buds, on and off through the summer.
Other thymes like Doone valley, Bertram Anderson - evergreen, variegated foliage with purple flowers fading to pink in the early summer.
Acaena microphylla Copper Carpet - ruby burrs in the autumn over bronze-purple foliage.
Corsican Mint – miniature mauve flowers in the summer over very prostrate, fragrant foliage.
Mazus reptans – purplish-pink flowers in the spring summer.
Creeping Savory - white flowers in the summer over very fragrant foliage.