The instructions and methods in this guide should be used for Royal Mail
Hello prospective eBay seller and possibly future top rated power seller.
I have decided to write this guide to assist people who want to start selling their personal items or a product they have in mind on the eBay platform, but are unsure or put off by not knowing the correct method to get their items ready to be posted out to their potential customers.
The process of posting an item you have sold on eBay is relatively simple. But you need to have some key tools in place and a basic understanding of Royal Mails rules to make it an easy task to complete.
Now let me tell you what you need and how to complete this task:
Mail lite bubble lined postal bag - These come in all different sizes but I personally like to use the 180 x 260mm size categorized as D/1 . I find this size isn't to big but not too small either and will let you fit most smaller items you wish to sell inside such as, Phone cases, CD' s, Razor packets etc. You can always opt for a larger or smaller size. Just make sure you choose the correct size for your product.
A quick note to mention in case you are unsure of where to buy these from. If you do a simple google search for example at this moment in time I just typed in to google "Mail lite bubble lined postal bag D/1" and I found a stationary wholesaler selling these for as little as 15 pence per parcel as a pack of 100. Also if you search around you will probably find suppliers who are offering even better deals.
The second item on your list should be a Royal Mail PPI letter size guide postal ruler - The reason you need one of these is so you can categorize which size your parcel will fall under in accordance with Royal Mail. This is very important because it helps you set and factor in your postage costs when deciding to sell something on eBay. The most common sizes that smaller items will be are Large letter and small parcel sizes.
Another quick note to mention on the purchasing of one of these Royal Mail size guide rulers. If you just do a quick search on eBay for example "Royal Mail size guide ruler" You will find plenty selling where you can pick one up for 2 or 3 pounds. This is a good investment in a tool which will save you a lot of problems if you didn't have one.
Working out the cost for your parcel:
Now that you have some of your essential tools, working out the cost to send your parcel via Royal Mail is very straight forward.
The process is worked out by the size in which your parcel is categorized under plus the weight of your parcel in grams or kilograms. For most smaller items you will only be working in grams.
The way Royal Mail sets their weight categories is in blocks of weight. For example a large letter will have the following applicable weights associated to it and they are - up to 100g, 101 - 250g, 251 - 500g and 501 - 750g.
So this makes things easy because for a start, a simple set of kitchen scales should do the job if you are sending off mostly large letter parcels because you only need to know which block of weight your parcel falls in, not the precise weight!
This is good if you are on a budget and don't want to invest in digital scales because they can be quiet expensive.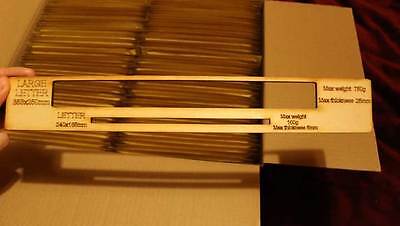 Add a caption
Mail Lite postal bag & Royal Mail letter size guide ruler
The process of making up your parcel and sending it out
In this section I will explain what I believe the most cost efficient way is to get your parcels made up and ready to send.
What you will need:
Permanent marker
White plain paper (optional)
Sellotape
In this example I will use a simple stock of mobile phone cases we wish to sell. Assuming we have worked out the weight of our item, what letter size category it has fallen under and what type of stamp we will need. Let us see an example:
So in this example of a phone case, let us assume that the weight was 80 grams and we are going to use the mail lite D/1 size postal bag. So now we know that:
We are in the lowest block of Royal Mail weight which is up to 100g
And we are classed as a large letter which we found out by using our postal ruler size checker.
Now to keep costs down we decide to send this parcel via the most efficient way which would be, not tracked and "2nd Class Large" as of this date it would cost 75p for a 2nd Class Large stamp.
So let us now look at our running costs to send this product:
Our stamp cost us 75p and our parcel cost us 15p so the total cost to send our parcel is 90p.
We can now decide if we would either like to print out the buyers address or manually write it on to our parcel. I prefer to do the latter and the reason is that not everybody has access to printers in their homes and to print paper in lets say a local internet cafe could incur quiet a bit of unwanted costs.
Lets say for example you are charged 20 pence a page, if you sell 1000 items you have paid an extra £200 for no reason. Besides I believe when you write the buyers address by hand on to their parcel it adds a more personal touch and care to the transaction.
Let me point out that there is a good tip for when you start to sell more items more quickly. Royal Mail offers a service called "Drop and Go" this allows you to simply drop your parcels of at your local Royal Mail branch without the hassle of having to queue up or stand there posting the parcels individually. The service even offers to add your buyers addresses to your parcels free of charge. You can simply walk in to any Royal Mail post offers and ask for the Drop and Go application. It takes 5 minutes to set up.
So there you have it, my guide for posting on eBay via Royal Mail.
Below I have included some made up examples of what your parcels can look like
Best of luck,
Daniel from Cult-Fiction UK