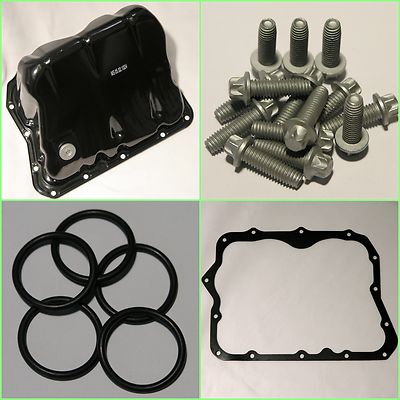 Every great car also needs a bit of looking after, even the Smart Car. After a few years the sump can get damaged scratched and rusty, so needs replacing. While you're at it why not replace it with one of our sumps which include a sump plug? No more sucking the oil out with a pump, no more worrying about all the swarf and grime left in the engine, because the pump doesn't get it all out. Our sump directly replaces A160 014 0002 which fits both the 600 & 700 cc petrol engines and can be seen in the listing:
Smart Sump with Sump Plug
While you're at it why not fit a sump gasket so that you don't need to replace the gasket sealant every time? We sell our own sump gasket specially made to fit the Smart Car which we also sell on eBay complete with the replacement sump in our listing:
Smart Sump with Sump Plug and Gasket
Finally, if your replacing your sump you will definitely replace your oil filter, so why not buy them all together?
Take a look at our
Ultimate Sump Kit ,
which includes our Sump with Sump Plug, Sump gasket, Sump Bolts & Oil Filter, and of course some spare Sump Washers for your future oil changes.
Important:
if fitting our sump gasket,
do NOT use instant gasket, other silicon sealant or oil as well
as this will slide the gasket out on tightening!
As the Sump Bolts usually corrode at a similar rate to the sump, we have some improved Sump Bolts specially made which are Geomet plated. This has 2 advantages:
1)
You can get all the bolts out easily!
2)
You don't need to change the bolts every time,
To make it easy for you, we now offer a Sump Kit which includes the Sump with Sump Plug, Sump Gasket, & our Geomet Plated Sump Bolts & Spare Sump Washers:
Smart Sump Kit
or the
Ultimate Sump Kit (with Oil filter)
Of course, you can also order our new, improved Geomet Plated Sump Bolts as a set of 14
Sump Bolts
or 10 sets,
Sump Bolts x 140
if you replace a lot of Smart Sumps.
There is an excellent guide by the friendly guys at fq101 which you can find by looking for the
'how-to-guides/fortwo-450/engine/508-sump-replacement-450
Don't forget that if you replace the sump bolts you need to tighten them to 12 Nm, if you are re-using the old ones only tighten them to 9Nm.
If you like the guide, don't forget to check out the fq101 site and follow them on Twitter. We think they do a great job :)
If you found this guide helpful, please click on the green thumbs up at the top of this guide & share with your friends & colleagues.
Many Thanks :)
@SmartEarlyBird
Always Innovative, Always Helpful
Don't forget to follow us on Twitter and sign up to our eBay shop newsletter:
Newsletter Subscription