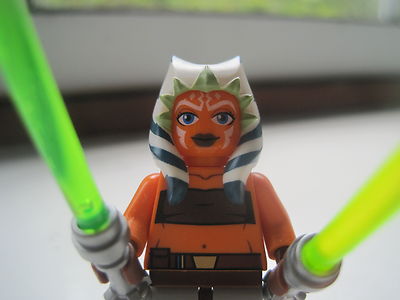 Add a caption
Ashoka Tano, showing her clean, crisp front and both her lightsabers with original chrome hilts.
The Basics
This article is going to cover he basic fundamentals of selling lego figures on Ebay. Whether you're selling your old figures you found in a box in the attic, or buying and selling for profit.
Things like the picture, description and postage, all decide if your item will sell or not.

Learn these basics, and you'll be making £100s off your your old Lego figures that were previously just sitting around.
You can also go on to make profit but buying lego figures cheap, and then selling them at a higher price by adding better photos, descriptions and delivery options.
It's all down to you nailing these basics to make some big money of these tiny figures.


First and foremost, the picture...
I believe that this is the most important part of the sale. The title is also paramount, but people have already searched for the thing they roughly want, and now they are scrolling down the page looking for the best one. Take a high quality photo, with a good background and lighting. Show your character in different poses to highlight them, and if there are any scratches are anything, make sure they are visible, as not having them shown would be false advertising.

The Title
When people shop for Lego minifigures, 9 times out of 10 they know what they are looking for, and are after this item in its original form for collecting purposes. This means that the title should not only included the full name of the character, "Ashoka Tano", but also the set number in which they appeared in. Write, "Split from set ****.." to show that the figure is an original Lego minifigure.

Postage and Packaging
Simple...don't include international postage....the cost and bother is not worth it for a simple figure. Offer to your own country only, unless you live in a tiny country, where basically your only options are international.
When Ebay filters the lowest prices, they will filter it so that postage and packaging is taken into account. So as long as the total price of your figure, postage and packaging and all, is the same, it doesn't really matter. For this reason I would say have the item listed as postage and packaging included. People will subconsciously look for these as it's a lot easier to see one price, than have to add up two. This will give you that split second advantage when it comes to the buyer seeing the different listings. It seems trivial, but as a long time seller/buyer, it makes a difference.

Pricing
When you're thinking about selling a Lego minifigure, do your research first. Look at all similar listings and try and find a price that is somewhere in the middle. Most people will list at the lowest price, and these constant listings will mean that the highest priced figure, (if it's identical to the others), will not sell under normal circumstances.

Description
The description is like a job interview. Your CV has already got you in this position, i.e, the buyer has clicked on your item, and are interested enough to scroll down to the details.
It's not up to you to write a detailed description of the character, leaving nothing out without putting too much in.
In the description you should include all information about your character, the set they came from, the parts included and everything else. If you're struggling with this information then have a google, bricklink is a good website for finding detailed descriptions of characters.
Think about your audience, if you're selling one figure to a collector, they want to know about any scratches, dents, and lack of original parts before they buy.
No need to scream it from the rooftops, but any issues need to be highlighted so the buyer knows what they're in for when purchasing.

On the other hand, if you're selling 20, basic figures, then you can stand to be a bit less detailed, instead focus on selling the heck out of them. "These fantastic! Fun! Minifigures!!!"
You'd be surprised how many parents just type lego into ebay and buy a bunch of figures without any knowledge of their childs interests or wants other than generic LEGO. If the buyer lays eyes on the words, "fun for kids", or something, then a sale is more likely.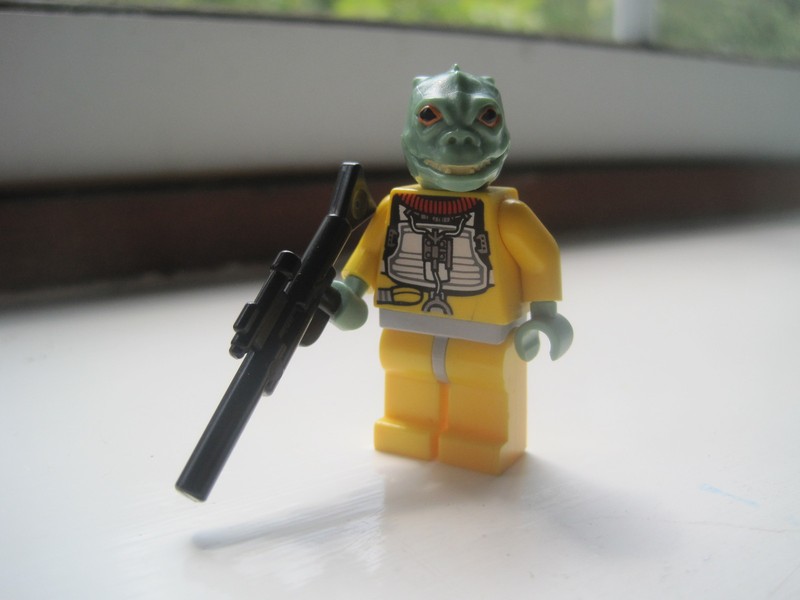 There you are...
Everything you should need to sell your figures on Ebay, thanks for reading!
-Sam Baker