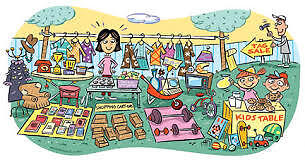 And make a few pounds in the process
OK, you want to get rid of some stuff that you don't need. And hopefully make a little money to buy more stuff, hopefully that you DO need. Here is how to go about it...a few DOs and DONT's from personal experience.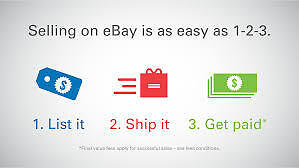 First things first...
Collect a little pile of things you don't need. Then decide:
1. Have I used it/them in the last two years? If not, why not?
2. If not, am I realistically ever going to need it again in the future?
3. Is it mine to sell? (Not your best friends, ex's, sister's, stuff from work etc). Best check first if you are not sure-they may be happy for you to sell and cut them in on the proceeds.
4. Is it in a suitable condition to sell? (The better the condition, the more likely you are to get something for it- DUH). If its tatty, outdated (NOT vintage) or a bit shabby, best send it to the charity shop. Or the tip. You will be wasting your time trying to sell the unsaleable.
5. Is it something that would appeal to a niche market e.g. is it collectible? vintage? retro? something for a real enthusiast? If so, by all means list it but make sure you choose the right category. And price it accordingly. (If its likely to be valuable e.g. a potential antique, get it valued by an expert).
6. Do you hate the sight of it? Doesn't mean everyone else will but its worth thinking about why you hate it so much. Is it because its got bad memories for you? Or is it just plain hideous?! I have sold some real ugly duckling stuff on ebay but you need to be honest about this with your potential market, eg. describe it in amusing terms.
7. If you are in any doubt get a friend over to go through the pile with you. Two pairs of eyes are better than one. A glass or two of wine helps as well, with the honesty at least.
8. If you're planning to sell cars on ebay, my advice is give it some serious thought first. You get a lot of timewasters and you might be better off going to `we buy any car dot com' or similar. Seriously, save yourself some grief if its an old banger you want shot of. You may sell it for a few bob extra but you will be drive insane by tyre kickers who will turn up at 10pm, haggle over everything, let you down, and you will have to put up with their BO and bad attitude into the bargain. Just my opinion mind.
9. Make sure you have got plenty of bubble wrap, old plastic bags, cardboard boxes and brown paper for wrapping. And sellotape. Fill your cupboards with sellotape or parcel tape. Poundland or The Works sell cheap versions. Not the Post Office, they make plenty money out of this stuff.
10. Make sure you have the TIME TO GO TO THE POST OFFICE.! OR ARGOS! People get hacked off if they pay on time and you take ages to post it! They will vent their spleen on your feedback scores, for sure. Wrap the items up ready to post BEFORE the auction ends, once their is a bid or two on. Saves loads of time later. I stick post it notes on so I know what is what.
11. Washing machines, dishwashers and white goods sell well but be scrupulously honest about any flaws. Most people don't mind the odd chip or scrape, but if they find it doesn't work, the door is hanging off or its not as described, you will have to spend a lot of time and money putting it right. Not worth it. Also it helps if you have the original instructions, people like that.
12. International postage is an option now with sending it to the UK shipping centre but you might have to reply to numerous messages in broken English asking you questions that you can't answer. Just sayin'.
13. Can't use UK postage for the Channel Islands, Scilly Isles, Isle of Man, Eire, Orkneys, Hebrides etc. If its off the GB mainland, check before you list with postage rates. Saves grief later. ( I have been there....)
14. Try and enjoy it. Its supposed to be fun, I think. If you want to start an online business this way, so be it, you have to be prepared for some stress. But for the rest of us, my advice is, if you don't like dealing with people and can't cope with a bit of pressure, don't do it. Its all about the customer service, dearhearts! The customer isn't always right but it helps if you can pretend they are.
15. . BTW I usually take up ebay suggestions re listing title, added features to make ad stand out (as long as it is not too expensive). That usually works, as they do know about this stuff.
Ready now? Get listing...