Would you like to be your own boss? Interested in starting and running your own business? Working from Home? Career change? How about working in Property? Full and part time hours to suit. Work to suit your lifestyle.

YOU can make money inspecting rented properties on behalf of landlords and letting agents, by becoming an Inventory Clerk! Are you willing to put the work in to get good rewards? If so, £200-300 a day is achievable!

Please be aware that this isn't a get quick rich scheme, you will have to work to grow your business, but anyone can do this.

This area of work is best suited to those that:

Can use a PC

Can talk to people

Have a good eye for detail

If you would like to know more, please read further to find out more about my guide to becoming an Inventory Clerk, running your own business! I have tried to provide as much information as possible about the business and how it can work for you. I have put a lot of time and effort into producing the guide, which is available for a small introductory bargain price.

This is a newly available guide, however please see recent feedback remarks from a couple of people who have purchased my guide already (you can check this is genuine by looking at my feedback) Some useful information, thank you :-) very comprehensive & well put together,it's a new career for me , Thank you .

This simple business idea is suitable for anyone. Those people…

…looking for a new full time career …looking to supplement their income with extra hours

…with child care issues needing flexible hours

…out of work looking for a new challenge

… with some/no experience of working in property before

…that may already own a business and wish to expand on their services offered

If you are currently working I would suggest trying this idea and as you become successful, you can take on more hours if you wish to do so, potentially going full time, as I did.

What is an Inventory Clerk?

Inventory Clerks provide a service. A service that is very much in demand. With a little knowledge, you could be providing this service too, on a self employed basis.

In every major town or city in the UK there are thousands of private rented properties. These properties are of course owned by landlords and often managed by letting agencies. Landlords and letting agencies both require this service. We are talking thousands of people/businesses needing this service throughout the UK. This is where you, the Inventory Clerk, come in.

You will not need any special skills, expertise or qualifications. You do however need an 'eye for detail' and you need to be able speak to people.

If you buy this guide at a bargain price I can show you how you can do it too.

Growth area

With the housing market the way it is currently, millions of people are priced out of buying a property. This has meant that the rental market has gone through the roof as the demand for rental property is huge. With landlords and agents increasingly busy, they have less and less time for the inventory checks and reports. See where this is going? This is where you come in and make a good living out of it!

You can start small, all you need is to market your business (I will show you how) and once you get a few jobs, you may find that this really takes off.

My guide will show you how you could be working in this field, earning good money with a high level of job satisfaction.

What you receive:

Included in my guide at a glance:

• Introduction to this business

• How to conduct an inspection

• Producing reports

• Sample document

My guide is currently at a discounted introductory rate...

On purchasing you will receive a disk with all the relevant documents on. The disk opens in word. These will be sent by Royal Mail.

I feel it is an absolute bargain price due to the potential returns it can make you, as my customer.

I will be looking to increase the price in the near future so grab a bargain while you can.

As I say this isn't a get rich quick scheme, you will have to work at it, but the opportunity to improve your life is there and I can show you how.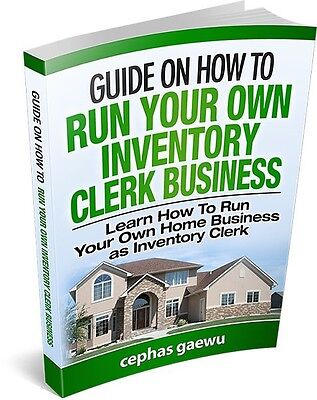 I welcome YOU to this unique business opportunity, and thank you for looking at my ad, and taking the first step in becoming a Business Owner……

How would you like to run your own business? What about Working for yourself, and being your own boss? What about the Freedom of Working from Home? OK, What about a new career change or a lifestyle you deserve?
OK, I have good news for YOU……I am offering you an opportunity to work in the Property industry or Business! Really, YES…YOU can work as a property INVENTORY CLERK…. YOU can run your own business, and make money inspecting rented properties on behalf of landlords and estate agents in your area.

Now the question is…..are you willing to put in the hard work for a good rewarding CAREER?

If so, £100-300 a day is POSSIBLE and ACHIEVABLE!