Most sellers will state in their listing whether a part they are selling is genuine or not, however many don't so how can you tell whether the item you purchased is genuine? There's a lot of misinformation out there which is partly fuelled by the slightly differing ways in which GM mark up their parts. The below guide should hopefully shed some light on the matter.
Every Vauxhall part has a specific GM (General Motors) part number. This number will be either a 7 or 8 digit number often beginning with a 1, 2, 3 5 or, most commonly, a 9.
In most cases this part number will be printed directly onto the part as seen below: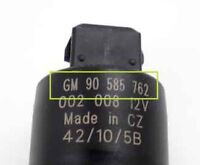 It's also worth noting that GM often print the Vauxhall, Opel, Holden numbers etc. on the same part and then highlight which one is applicable with a dot: This happens a lot with centre caps where GM produce the same centre cap and just vary the badge that's inserted on the front depending on the brand and highlight what part number it is after the badge has been applied.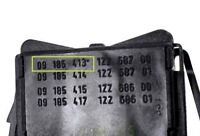 Or onto a GM hologram sticker. As seen Below: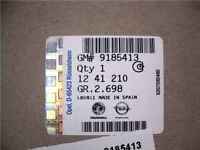 The sticker may be found either on the original packaging or on the part itself. See below: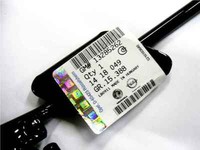 Some larger items such as Turbochargers and wheels may not have the part number printed on them (only on the packaging). Larger items like this always have GM stamped somewhere on them and should have two digit Ident such as 'TX' which may be on a yellow sticker or printed directly onto the item. See illustrations: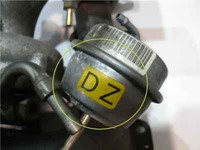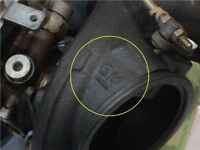 There may also be a production number.
If the parts has any of the above markings, in most cases you can assured that the item is genuine. Parts which are non-genuine will most likely not have any of these markings. We aren't aware of any instances where non genuine parts have been given fake GM labels, so the above should serve as a good guideline.
Exceptions:
Some parts may be genuine but not have any of the above. These are mostly parts which the dealer receives in minimum multiple quantities and break down further for resale. Examples are some wiper blades, wiper arm caps and many of the gaskets, washers, nuts & bolts etc. It's these items which the only real way to ensure you're getting a genuine article is to purchase from a Genuine Franchised Dealer.
Parts change sometimes. A good way to tell a non-genuine part can sometimes be if it simply looks different to the original that you are replacing or perhaps isn't consistent with GM manufacturing standards. However, this is not always the case. Parts can change, for example, a good majority of Corsa C fuel pump connectors are made from black plastic. The new ones are made from brass, why? Because the plastic ones have a habit of breaking and GM decided to change the material. In these cases the old part number is usually superseded and a new one issued to reflect the change. So also bear in mind any possible changes to a part should you find the part number to differ from the one on your original part.
Finally
In addition to the above, buying from an Authorised Vauxhall retailer is your best bet of ensuring that the goods you are getting are original. As always, if a deal sounds too good to be true, then it probably is. However, that's not to say there aren't massive savings to be had out there (especially on used parts) but it's always worth comparing what you're looking at to what the average market price for that item is.
You may also come across a a label like the one below. This is the picking/ order label from Vauxhall, it's always a good indication that a part has been sourced legitimately.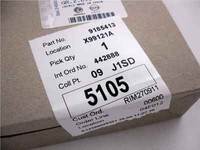 Any part which is not purchased through an authorised Vauxhall Franchised Dealer will not carry a manufactures warranty. The warranty, if any, would be held with the merchant. This will be covered in another guide.