Since Radley was founded in 1998 by Lowell Harder it has become an iconic British brand and a household name famous for its Scottish Terrier logo. This rise in popularity has not been without consequences however as fraudsters have looked to capitalise on the brand by producing fakes and and copies of genuine Radley products. In this guide we will take you through some simple steps and offer some tips on how to avoid these fakes and ensure your hard earned money goes towards genuine Radley products!
http://www.ebay.co.uk/usr/thedesignerpeople
How to spot a fake Radley purse:

1. Radley dog logo:
When examining a Radley purse the first thing to notice is the Radley logo itself. The Scottie dog should never have the word Radley embossed on the dog itself as seen in the picture on the left. The Radley dog should resemble the picture on the right.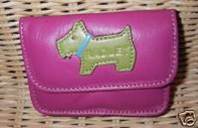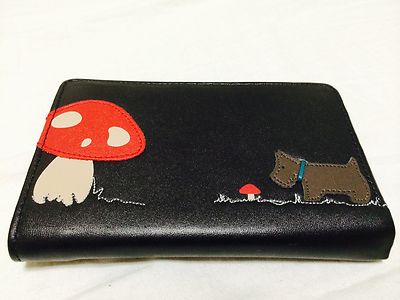 Radley purse tag
A genuine radley purse tag will often resemble the images below and when purchased will be slipped into one of the cardholder slots. Common fakes often feature a white tah with a red dog with the word Radley printed in capitals.It can often be hard to spot a fake Radley tag as they are relatively easy to replicate.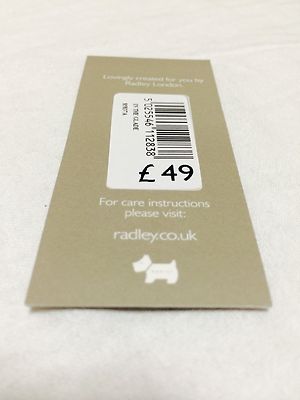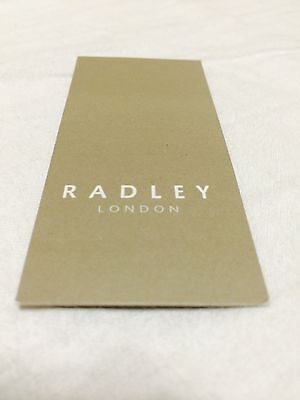 3. Quality of stitching and craftsmanship
Radley products are renowned for their quality so there should be no evidence of fraying, discolouration or poor quality materials. The colour of the Radley dog will often match the colour of the inside stitching however this is not always the case. The zip and popper of any purse should also be fully functional and work with ease.
4. How will the purse arrive to you
Radley purses which are made of leather should come with a dust bag included as shown below. The official Radley dust bag features the Radley logo and should be a drawstring bag. If an ebay listing states that the purse will come with an offical Radley London gift bag these two designs on the left hand side are the most common designs however seasonal gift bags may also exist.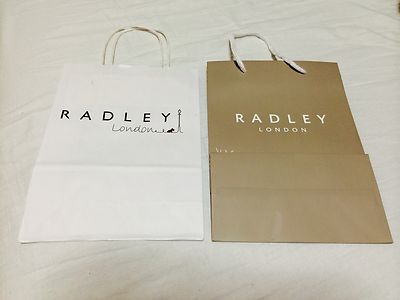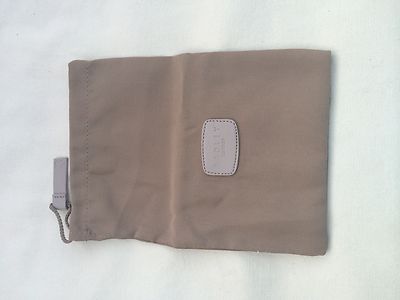 Our quick tips to sniff out an Ebay seller selling fake Radley products:
What is their feedback like?
They should have a number of past customers who were satisfied
How long is the item listed for?
Fraudsters will often only list fake items for around 3 days to avoid detection from Ebay so be wary if you find a listing which will only be active for a very short time.
Dont be afraid to message the seller
If you have any concerns whatsoever dont hesitate to contact the seller. If they are selling a genuine product they will no doubt want your custom so will be happy to help.
What returns policy does the seller offer?
If the seller is offering genuine goods it is much more likely they will accept returns within a given number of days. Ensure that you have protection if you wish to return an item that you have doubts about.
Use the internet to your advantage!
If you are reading this guide you are no doubt pasionate about you receive genuine Radley products. You can use the sellers photos and see how they compare with images of the same purse online via Radleys official website. This will allow you to disect any differences and ensure you are buying the real deal!
We hope that you found our guide useful and if you have any further questions please dont hesitate to contact us at TheDesignerPeople. We stock a large range of genuine Radley purses at great prices so please come and pay us a visit sometime!
http://www.ebay.co.uk/usr/thedesignerpeople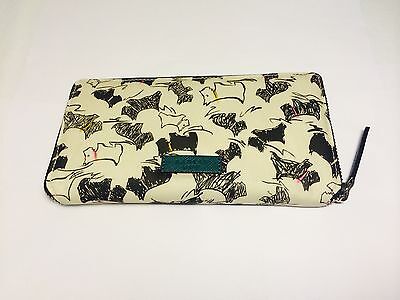 Above: Radley 'doodle dog' purse Below: Radley 'In the glade' purse