What is cake makeup?
Cake used to be called pancake. It's a traditional water based makeup that still has plenty of uses today.

Grimas cake makeup dries matt and that is very useful for cosmetic makeup (TV, film and photography) as well as for large and small-scale theatre.

It covers quickly so you can use it to cover large areas of the body (e.g. for ballet, body-painting) and it works brilliantly as a base for face and body painting with Grimas Pure face paints. Cake makeup comes in 35g flat containers handy for getting at with a sponge.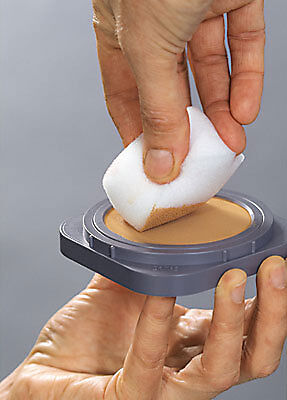 Getting ready
Cake makeup works best if the skin is not greasy. Use Grimas cleansing lotion to remove skin oil first. If the skin is a bit dehydrated or sensitive, you can apply a thin layer of Grimas under makeup base after the cleansing. Do this a few minutes before applying the cake makeup so it is completely absorbed into the skin. Don't use any greasy creams under the cake makeup.
Putting it on
Apply Cake makeup with a slightly damp makeup sponge. Tip: press the makeup sponge down onto a tissue to remove excess moisture. If you work with too much moisture, you will get streaks. You can smooth the colour with a soft, dry cloth. First dab a little cake makeup onto the hand to check the colour intensity. Then apply the makeup evenly from top to bottom with a rolling/dabbing action, working from light to dark when using several colours. Apply the cake makeup up into the hairline and remember the ears and neck. Stopping before reaching the hairline will make it look like a mask. Cake makeup dries quickly, so you need to work quickly to achieve a good result.
Keeping it on
Cake makeup will give a matt finish and so it does not have to be powdered and it will stay in place well. If you do still want to powder off lightly, for example for photography, use Grimas compact powder or makeup powder. Cake makeup will still stay in place well under warm and moist conditions (lamps during photography, tropical climate). Work hygienically and always use clean makeup sponges. Don't leave the moist sponge lying on top of the makeup, as the Cake makeup will then become saturated with moisture. Allow the makeup to dry naturally before closing the box. Cake makeup should preferably be stored in dry, dark and cool conditions.
Removal
Cake makeup can be removed with Grimas cleansing cream or with water and soap or a neutral pH skin wash. Shampoo can also be used. Massage it in briefly and rinse off with lukewarm water. Don't use remover cream for cake makeup. It contains waxes and oils which is great for cream makeup but it causes cake makeup to stick to the skin. Finish off with cleansing lotion and skin care cream.