Painting furniture is not a new thing but in recent years more and more people have been using textured paint to create different looks for their pieces.

One of the most used options is chalk paint which as well as the lightly textured finish, adheres to furniture much better and dries in a fraction of the time.

Up until recently chalk paint was only available from one or two manufacturers in a limited number of colours which meant you were both restricted to the colours you could use, and, that you ran the risk of seeing a similar piece in exactly the same colour.

We felt that when we set out to create an individual item we should be able to choose each and every aspect, and make it match what we were setting out to achieve.

In light of this we tested many different options for chalk paint powder and U-Chalk was born.

Mixing your own chalk paint is extremely easy and can be achieved quicker than buying some of the internet, let alone waiting for it to arrive by post.

Following feedback from our trade partners we have revised the recipe for U-Chalk paint powder and you now no longer need to mix with water.

We found that removing water from the process kept the colour closer to the original paint stock and created a more durable finish.

Simply mix your U-Chalk paint powder with paint at a ratio of 100g per 500ml of paint.

Using these quantities a 400g bag of our Chalk Paint Powder will create 2 litres of chalk style paint.

As you will find when you start to use the finished product is that it goes a very, very long way, so we would suggest, unless you are creating a lot of pieces in the same colour, that you only mix as much as you need at any one time.

For a more contemporary look both our customers, and ourselves, have used our product with paint test pots which can be purchased from as little as £1 from your local DIY store.

Remember if you do use paint test pots you could have up to 20 different colours from one 400g bag of U-Chalk! The only limit to what you can achieve is your imagination!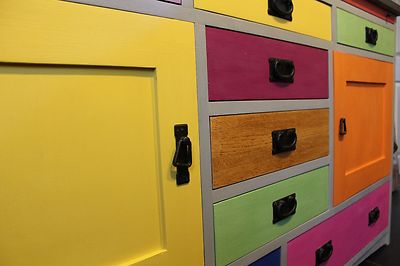 Add a caption
Tired wooden sideboard given a new lease of life with U-Chalk and test pots! Total Cost £6.25
Test Pot Sideboard
To showcase the possibilities of U-Chalk we created a contemporary sideboard piece using test pots of various colours.

The piece used a total of 6 pots which cost £4.80 making the whole project cost around £6.

What a transformation!