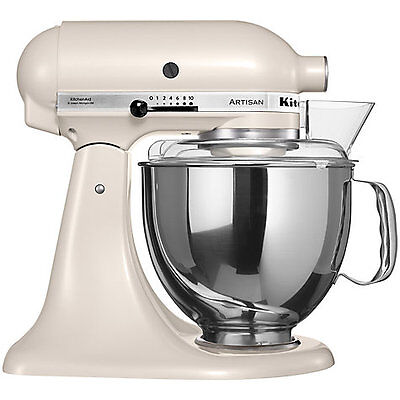 KitchenAid Mixer
This sophisticated and wonderful piece of kitchen equipment might set you back a few hundred pounds, but it is worth every penny.

Even without the fancy accessories you can buy to use with it, this can make your life so much easier from kneading bread dough, whisking egg whites to mixing batters and sauces with the simple flick of a switch, and that really is just the start...

I am a professional cake maker and can now have a 10 inch chocolate cake in the oven in under five minutes (greasing the tins and weighing out takes 3 of these up) so you can imagine all of the other things I can now do whilst my KitchenAid mixer is doing all the hard work. It really is an extra pair of hands in the kitchen.

A standard mixer comes with a standard steel bowl, three attachments: a wire whisk for the obvious egg whites, creams, mayonnaise and mousses, and dough hook for breads, pastries and pasta doughs and a flat beater for general mixing and creaming of cake batters and this is probably the attachment you will use the most.

The KitchenAid Mixer is also so simple to use, it has ten speeds and the bowl and attachments can go in the dishwasher. Both the bowl and attachments fit to the mixer with a simple twist and they are then locked in and ready to use. As with most electrical equipment it is best to start the motor on slow speed at first then moving the speed up to suit your recipe instructions. The mixer also has a release lock for when you are standing the top of the mixer up to either scrape the bowl down, add ingredients or simply to remove the bowl, this means that you have to pull the little lever on the side to put the top back down and lift it up.

It comes in pretty much any colour you can imagine, mine is the classic cream colour as in the picture above (every now and then I wish I'd gotten the red one) but the cream fits my kitchen and any other kitchen I might have or decorate. It looks great out on the surface and is too heavy any way to put away....but you will want this out on display.

Another last point about buying a KitchenAid stand Mixer is the guarantee supplied in the box, make sure you fill this in and send it back, and KitchenAid will send you a hardback recipe book full of amazing recipes and examples for getting the most from your KitchenAid Mixer and I mean a proper KitchenAid recipe book this free book is drool worthy and looks expensive and I love it, along with my KitchenAid. For any budding chef or baker this brilliant piece of equipment is for you, for anyone who loves spending time in the kitchen the KitchenAid Mixer is for you and I even know a few people who have one just because it looks good in their kitchen...

For recipes and more ideas and tips on using your KitchenAid Mixer come back soon and read my guides.