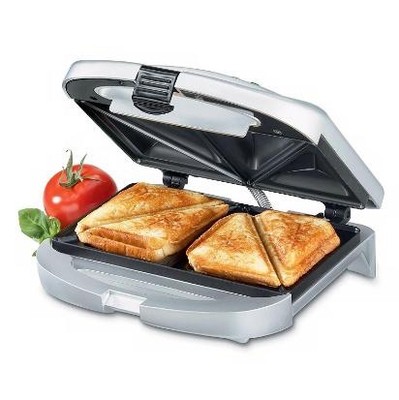 Begin by preheating the toastie maker so that the plates have time to warm up to ensure thorough cooking. Some toastie machines do not come with a turn on switch so if you have one of these all you need to do is plug it into the wall and it will preheat automatically. Remember to keep the lids down when preheating to avoid burning yourself on the hot plates.
Some people say that you should put butter directly onto the plates but i think its better to butter one side of the bread and place face down onto the plate as it is less messy and this way it is also less likely to stick.
Put fillings ontop of the dry piece of bread such as cheese or ham. It is important not to overfill the toastie or you wont be able to close the lid properly.
Then put other piece of bread ontop but butter side facing upwards towards the top plate to ensure it doesnt stick.
Put toastie lid down and wait several minutes for the toastie to cook. If you find that you have put too much filling in the toastie and you cant put the lid down properly then most machines have a clip which you can use to clip the lids together. I would wait approx 5 mins while the toastie cooks.
If you put cheese in the toastie then wait until the cheese melts out on the sides and then you know its ready.
Once cooked open lid and serve!