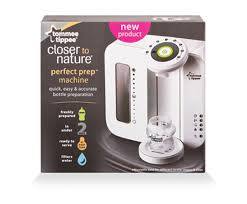 Making the perfect bottle for your baby in 2 minutes.
The Tommee Tippee Perfect Prep Machine is one of the best inventions of the 21st century for babies. I have personally owned one for the past seven months (my first child), and I won't be getting rid of it in a hurry.

Insert your filter into the hopper, and fill the machine to the max fill point. Allow the water to drain through the filter and the water low light to extinguish. Once your machine has filtered through all of the water, place your bottle underneath the spout onto the bottle holder provided with your machine. Select how many ounces you would like to make for your baby (my son takes 7 ounces of milk I turn the dial until it's on number 7). Press the big button and hot water will start to fall into your bottle. Once the hot shot of water has been put in your bottle, the machine will beep. Add your scoops of milk to correspond with the number of ounces of milk you'd like to make (7 ounces = 7 scoops of milk powder). Make sure to put your milk powder into the bottle within 2 minutes or the machine will start the process again due to the hot water no longer being hot enough to kill the bacteria in the powder. Once you have placed your powder into your bottle, press the big button again and it will fill the bottle with cool water. This water makes the bottle to the correct temperature for your child, whilst killing all the bacteria in the milk so your child doesn't become ill. The machine will fill the bottle approx 1 ounce over the amount you require: it is the weight of the milk in the bottle and doesn't affect the amount of ounces you require.


Please note that this machine does require you to change the filter every 12 weeks. It also requires regular cleaning which does take a while to do.

Thank you for reading my guide!

This guide was written for a promotion via bzzagent.