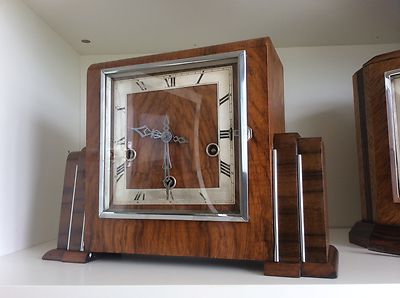 There is nothing worse than taking delivery of a clock, and upon lifting the box, you hear that dreaded tingle of broken glass, and as you unpack more damage becomes obvious.

Without saying that the above can be totally avoided, a lot can be done to prevent it.

Whether it's a chime clock or not, we carefully pack the inside, so every thing is protected, chime rods, hammers, pendulum rod, we pack so nothing can move around, a lot of the time our clocks arrive still in beat.

We then wrap the outside of the clock with bubble wrap, until they clock can no longer be seen, through the bubble wrap, pendulum weight and key are packed separately.

Clock is then placed inside box, with heavily wrapped weight and key on the bottom, any free space is packed up, either with bubble wrap or packing peanuts.
Box is then sealed up and all seams taped over.

First box is then bubble wrapped, ensuring there is protection all around,
it is then fitted inside another box, any space is again packed up with bubble wrap or air bags, again second box is sealed up and all seams taped over.
This is what has been called double boxed.

The outside box is then covered in a plastic covering to keep it waterproof.
Fragile tape is used all over the box, clients name and address is applied in three different area's.

Using the above method, we have never had a clock damaged or lost in transit.