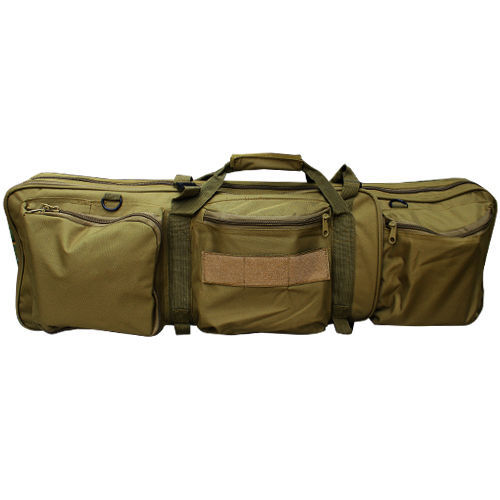 In years past, hunters viewed hunting trips as a necessity that enabled them to get sustenance for their families in order to last through the winter. During these long trips they would bring bags of supplies to keep them comfortable and carry their equipment and hunting accessories. Hunting is one of the oldest recorded activities in human history. Hunting has traditionally been viewed as essential to life in modern and ancient cultures all over the world. There are many weapons, methods, and accessories used for hunting. Although times have changed, hunting bags are still used today. There is a large selection of specialized hunting bags and other outdoor accessories available for purchase from eBay.
Hunting Today
While a person who lived many years ago may have gone on hunting trips that lasted several weeks each year, modern conveniences have made modern day hunting much faster and easier. Today there are many types of hunting accessories available for frogs, ducks, insects, beavers, mice, snakes, crayfish, turtles, rabbits, coyote, deer, swans, antelope, and more. Camouflage is a vital accessory that is a worthwhile investment for hunters.
Modern day hunters are also accustomed to all types of animal calls that are available for hunting in various seasons. There is a huge a variety of tree stands and stand accessories that can be used to blend in with surroundings and get a good view of the sky and the grounds. Many hunters still utilize urine-scented hunting accessories that can help attract prey. There is also a plethora of daytime and night time vision devices that can help hunters magnify their sight. Hunting is still being done today, but a lot has changed. Carrying a specialized hunting bag, however, is still a common practice.
Types of Hunting Bags
Some hunters prefer to invest in a camouflage bag to blend in with their surroundings. There are many hunting bags to choose from on online marketplaces like eBay. A few bags to look out for are below.
* A bag that is available today that is technologically advanced is the Eberlstock X-1 Bow and Rifle Pack. The design allows you to go for a walk hands free. The backpack will hold a riffle or a shotgun, and will also hold your compound bow for archery. This bag is an all purpose bag that will help you to be prepared while in the woods.
* Other bags are designed for organization. They may not have the hands free design of the Eberlstock X-1, however, they are fully equipped with pockets to keep all your calls, scents, and snacks separated. One popular organization bag is the Timber Ridge Split Decision.
* Fanny bags or packs are used to keep small items such as calls, scents, maybe something a little extra in there. Some people like to have a knife in there just in case they fall out of their tree stand. The waist pack will help to carry these small items right on your body.
Hunting Bags for Technology
Today we have modern devices and contraptions like trail cameras, GPS navigation, smart phones, and more. Some hunting bags are designed as backpacks that will not only carry your trail-camera, but will also keep things safe from the weather. Pack and protect all of your modern day electronic devices in one easy to use backpack. There are seven interior dividers that allow multiple storage compartments. When you are done in the woods for the day you can leave your trail camera in your spot to make sure your prey is still the territory.
Tools to Pack in Your Bag
There are dozens of calls, scents, vision devices, and others tools that can be packed in a well-stocked hunting bag. Some other items you may want to carry with you for emergency cases include a knife a Swiss Army knife or a utility knife with multiple functions. You also do well to have scissors, straight pins, waxed thread, a grommet setter, and a sewing awl used to punch holes in material. If you do not have waxed thread, you can use waxed dental floss or fishing line in a pinch.
Other tools will depend on whether you have nylon hunting accessories or canvas hunting accessories. If you have nylon accessories, you need nylon tape and a seam sealer that is made to bond to nylon. If you have a canvas accessories, you will need seam sealer that bonds to canvas and taffeta tape. Duct tape is useful for a number of outdoor emergencies. Sewing kits sold to campers will contain waxed thread. A few other essential tools to pack in your hunting bag are below.
* A flashlight, flare, or glow stick is good for those who will be in the woods for longer than expected. When it turns dark predators come out. Although you may have a weapon, it's no comparison to a pack of wolves or a pack of animals. Even single animals that are cats can spring on you in a second.
* While there are scent blockers to stop animals from smelling us humans and our smells, there are all scents available to help hunt. These scents are not for a huge selection of animals, but there are a few that include whitetail doe, bucks, in rut, and oestrous. There are scents available for elk, wild pig and sow, fox, raccoons, and coyotes. A male deer will come running for a long way if he is in rut to a female. This is especially true if she is in oestrous, or "in heat:. These scents make an excellent addition to any hunting bag.
* A range finder is a contraption that measures distance from your location to the location of your target. The reason this tool is so amazing is that you can calculate just how far an animal can travel if you're prey was shot. Many times they need to take a few extra steps and try to get away.
* Another hunting bag essential is a set of binoculars. A set of field glasses or binoculars will help you to see things that are very far away. They can give you a better advantage over the sight you already possess as well as vision that is better than your prey.
* There are all types of animal calls available that you can add to your hunting bag. Some popular hunting call accessories include duck calls, deer calls, turkey calls, and even mountain lion calls. Some of these accessories are simple mouthpieces, while there are many types of calls that are more complex. Antler rattles are another type of popular call. A person can either use old sheds they have found, or purchase synthetic antlers for rattling. The purpose of the rattling is if a buck is believed to be stomping around in another bucks territory, the buck that does have the territory is going to go check out the location he has marked.
* Another handy device to put in your pack that can affect the whole day is a pack of hand warmers. The warmers generally only last about 3-4 hours which can be just enough time to warm up.
Wader Bags
Some hunters like to be prepared to get dirty. When you are hunting or fishing in waders you often get filthy. You don't want to come home from a long trip and then clean your truck or car and do all your laundry. Fortunately, there are wader hunting bags like the Flambeau Wader Bag. It is made of a tough washable strong and durable surface that will hold up for years.
Conclusion
Hunters can carry a specialized bag that will equip them for everything. They should never leave home without shells, a knife, and bit of food that will not go bad. It's better to be over packed and very prepared then to show up without the tools for your hunt. There are many types of bags available for modern day hunters. You will need to consider a wide selection of hunting bags in order to find the one that will fit your hunting needs. There is a large selection of bags that can be purchased from eBay.