Memory Install Guides
These instructions provide general installation and handling information for 144-pin and 200 pin SODIMM memory. These instructions are intended to be used in conjunction with your model-specific owner's manual.
INSTALLATION PROCEDURE

NOTE: Before touching any electronic components, make sure you are properly grounded. By wearing a wrist strap (or using some other type of static control device), you can prevent static electricity stored on your body or clothing from damaging your installation.
1. Always turn off your computer and remove the rechargeable battery pack before installing your Kingston memory.
2. Insert the module into the socket at a slight angle (approximately 30 degrees). Note that the socket and module are both keyed, which means the module can be installed one way only.
3. To seat the module into the socket, apply firm, even pressure to each end of the module (see the arrows) until you feel it slip down into the socket. If you are having problems getting the module to seat properly, try rocking the module up and down slightly, while continuing to apply pressure.
- When properly seated, the contact fingers on the edge of the module will almost completely disappear inside the socket.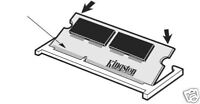 4. With the module properly seated in the socket, rotate the module downward, as indicated in the illustration. Continue pressing downward until the clips at each end of the socket lock into position. With most sockets, you will hear a distinctive CLICK, indicating the module is correctly locked into position.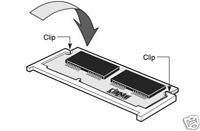 5. Once the module or modules have been installed, the computer's cover can be reinstalled.
6. Reinstall the rechargeable battery pack and any cables disconnected during the installation process.
7. Turn on the computer and follow the instructions in your computer owner's manual that describe the steps necessary to allow your computer to recognize the newly installed memory.
KINGSTON'S LEGENDARY QUALITY
Backed by superior design and rigorous testing, Kingston products are engineered for long-life and continuing value.To further our commitment to quality, all our products are 100% tested and backed by free technical support.
LIFETIME WARRANTY
Kingston warrants that this product is free from defects in material and workmanship. Subject to the conditions and limitations set forth below, Kingston will, at its option, either repair or replace any part of this product that proves defective by reason of improper workmanship or materials. Repair parts or replacement products will be provided by Kingston on an exchange basis, and will be either new or refurbished to be functionally equivalent to new. This warranty does not cover any damage to this product that results from accident, abuse, misuse, natural or personal disaster, or any unauthorized disassembly, repair or modification.
TECHNICAL SUPPORT
Kingston provides free technical support. If you experience any difficulty during the installation or subsequent use of a Kingston product, please contact Kingston's Technical Support department prior to servicing your system.
This warranty covers only repair or replacement of defective Kingston products, as provided above. Kingston is not liable for, and does not cover under warranty, any costs associated with servicing and/or the installation of Kingston products.
DISCLAIMERS
The foregoing is the complete warranty for Kingston products and supersedes all other warranties and representations, whether oral or written. Except as expressly set forth above, no other warranties are made with respect to Kingston products and Kingston expressly disclaims all warranties not stated herein, including, to the extent permitted by applicable law, any implied warranty of merchantability or fitness for a particular purpose. In no event will Kingston be liable to the purchaser, or to any user of the Kingston product, for any damages, expenses, lost revenues, lost savings, lost profits, or any other incidental or consequential damages arising from the purchase, use or inability to use the Kingston product, even if Kingston has been advised of the possibility of such damages.