Here is a simple guide explaining all about IP Ratings (Ingress Protection); The first figure is for Solids and the second figure is for liquids.
IP n(first) n(second)
So a IP68 would mean maxed out in fine dust and can be submerged in the sea! Easy!
We have many items in-store that are covered for IP Outdoor Weatherproofing, ask for details.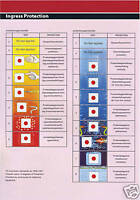 A larger image can be found on the main website here <http://www.penguin-supplies.com/IPExplained.jpg>