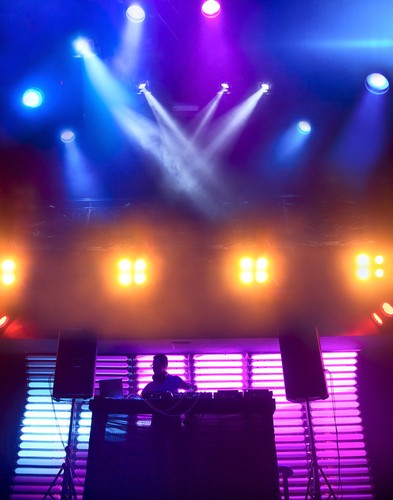 DJ lighting effects enhance the mood and put a dynamic spin on any party, stirring partygoers to keep dancing all night long. When people hire a mobile deejay for a function, they always demand a distinctive package from them to bring a whole new dimension to their party atmosphere, and DJ lighting effects can get pretty artistic. DJ lighting effects are so popular that they are essential at every modern party and nightclub and are a standard accoutrement in every professional DJ's inventory.
It is not only DJs who use lighting effects: many music enthusiasts, hobbyists, and party planners look to these items to turn drab little affairs into spectacular sound and light shows. Fortunately, this type of lighting is easily available in music and electronic stores; online sites such as eBay offer lower prices and a larger variety to match all budgets, requirements, and party demands.
Shopping for DJ lighting effects is simpler if one takes some time to learn about the different types available with useful accessories, tips on where to buy them, and how best to protect their equipment. This information helps in sorting through the baffling tangle of DJ lighting effects and ensuring one gets exactly what he or she is looking for.
What is DJ Lighting?
DJ lighting is a special type of lighting that DJs use to enhance their routine. There are two types of DJ lighting: stage lighting and intelligent lighting. Stage lighting refers to the background lighting used to set up the stage initially, providing a general wash of colour and lighting for the dance floor to reflect the mood or theme of the occasion. Intelligent lighting, with its special effects, is designed to affect the movement of the light on the dance floor, creating mesmerising patterns in all colours and shapes. DJ lighting effects are also known as accessory lighting.
Researching DJ Lighting Effects
Many audio and lighting sites online offer consumers a wealth of information regarding DJ lighting and the different types of effects that a person can achieve with a little creativity and forethought. Forums and communities relating to light and sound production offer answers to questions as well as discussions on the best equipment on the market. A good electrician will advise one about general care of the DJ lighting equipment and will be handy with repairs and replacements.
Features to look for in DJ Lighting Effects
Consumers should look for DJ lighting effects that run all night or are good for continuous long-lasting operation as well as long-life LEDs to avoid disappointing incidents. Quality lighting effects do not heat up quickly and compatibility with the controller or software. DJs should consider lighting effects that are suitable for all events and are affordable, since a very expensive rig will not be a good investment in the long run. Haze or fog machines might enhance the atmosphere but are not essential and should be low on the list of priorities.
Simple Types of DJ Lighting Effects
There are many types of DJ lighting effects achieved by either the type of light used or a combination of lights. Skilled DJs and light hobbyists can create complex patterns and effects using strobe, beams, and moonflower effects.
Strobe Effect
The simplest type of lighting effect is the strobe,, which is a robot-like strobe effect. Free standing or hanging strobe lights are relatively inexpensive and offer users flexibility and many are now commonly powered using cheap LEDs. Popular LED lights are easy on the pocket, lightweight, and do not heat up as much as the other options.
Beam Effect
The beam effect is another type that is widely used by many people. It comprises of coloured lenses that rotate in series in front of an LED light source, projecting beams of light across a dance floor. A fog machine is great when used together with any beam effects for improved ambiance.
Moonflower Effect
Moonflower effect bounces and refracts light, best exemplified by the disco balls. Easy on the pocket, disco, glitter, or mirror balls provide a focal attraction with their flashy mirrors and rotating sphere. They are also known as Retro lights since they hark back to the days of disco. They are usually suspended above a dance floor, flashing beams of light everywhere.
DJ Lasers
The most popular type of light effects is the laser lighting that uses laser diodes and multiple mirrors. Some DJs set up a whole laser show that is impressive, writing on walls or creating static patterns with this precise form of lighting effect. Lasers are also used together with fog machines to produce strong beams of light.
DJ Lighting Accessories
There are a lot of accessories that will help anyone creating DJ lighting effects although the most important are controllers,, to control the light intensity, and colour, and a lighting stand to prevent damage to equipment and accidents. There is no point in buying expensive lighting systems and equipment that will sustain damage quickly because of worn cases or bad storage habits.
Lighting Control Software
These are sound-activated settings that move the lighting effects in time with the bass tones of the music. Lighting effects, when integrated with a computer, give the DJ more control over the movement, intensity and colour of the lights. A good example is a DMX controller, which allows a user to control the power and intensity of the light.
Lighting Stand
To ensure a solid and professional performance, those using DJ lighting effects use a heavy-duty lighting stand with adjustable height and safety locks, strong enough to support all the lighting and to prevent damage. A stand with a foldable tripod will also ease up on snags and glitches.
Lighting Bag
Investing in a tough, padded, lighting bag with spacious side pockets allows one to keep all the lighting gear in one place, out of the way, and well protected from the elements. An ideal bag is one that works with all brands of lighting fixtures and allows them to be stacked, saving room but with a spot for every clamp, cable, and bulb..
Considerations When Setting Up a Show
A good deejay will spend time designing their light show, experimenting with different combinations for the various types of lighting to create the desired mood and effects. Too much lighting or improper setups can make or break a show or performance. If the lighting effects are intended to be set up for a big event, the user should check for the availability of electricity throughout that time while making allowances for sudden power outages. Unfortunately, lighting is expensive, so it is best for someone to invest in quality bulbs and cables to get good value and a good investment that will save them time and money.
Care of DJ Lighting Equipment
Anyone who buys quality DJ lighting for effects is making an investment and should protect the lighting in order to reap long-term benefits. All safety and care requirements relating to using electrical equipment should be adhered to by all to prevent damage and electrical accidents. One should always protect the lighting equipment from the elements, store it in waterproof bags, and regularly check the cables for tears.
How to Buy DJ Lighting Equipment on eBay
You can search for a specific keyword or a simple search for 'DJ lighting equipment' from any eBay page for results of all things twinkly: strobes, moonbeams, disco balls, and lasers. Take your time reading through the listing descriptions, checking on compatibility, capacity of the lighting, and, if it is a used item, the item's condition. Look for accessories like lighting bags and stands so that your equipment will function for years to come.
Research the seller that you would like to buy items from and read up on the feedback other buyers have given them from their buying experience. Feedback also gives you an idea of how quickly you can expect your item to be shipped to you. Of course, with a local seller, a quick pick-up will save you time and shipping costs, as well as the added benefit of being able to test your lighting equipment when you go to pick it up from the seller.
Conclusion
With the right lighting effects like strobes, moonbeams, and DJ lasers, party and club goers will have a spectacular show and a great time, something every DJ dreams of achieving. The above information shows that setting up a light show is easy for anyone to do with a little planning. A good setup with multi-layered effects will also save them money that they could have spent buying other, more expensive DJ lighting equipment. Since lighting equipment is only as good as the care that the owner gives it, one should consider accessories in order to get the best performance and the longest use. The time and effort a DJ spends in designing a good light show with different combinations of lights results in success and a great sense of achievement. It goes without saying that a wise user will always read up on care and safety requirements before hooking up any item that involves electricity, including DJ lighting effects..