Using a Song Bag with your class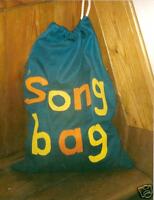 A collection of objects could be put into the bag and as each object is pulled out children have to think of a song involving the object - eg. a star could suggest 'Twinkle, Twinkle Little Star'.

All the objects in the bag could be about a single song which the children have to guess as they pull them out - and then use the objects during the singing of the song. For example a collection of animals for 'Old Macdonald.'

Each child writes down their favourite song - or draws a picture to represent it - one of two these are then pulled out at the end of the day each day and sung before children go home.

The bag can be filled with different musical notes - crochets, quavers, etc - for children to identify. They could then use the notes to make up a rhythm that they tap out on percussion instruments.

The bag can be used as a straightforward storage bag for musical instruments.

Or do you have a better idea?