Every cat needs a comfortable, warm place to sleep, rest, and retreat to. Both igloo cat beds and basket cat beds offer a range of benefits for your feline friend. Comparing the two models allows you to quickly and easily assess and determine which cat bed is the most suitable for your cat.
Igloo Cat Beds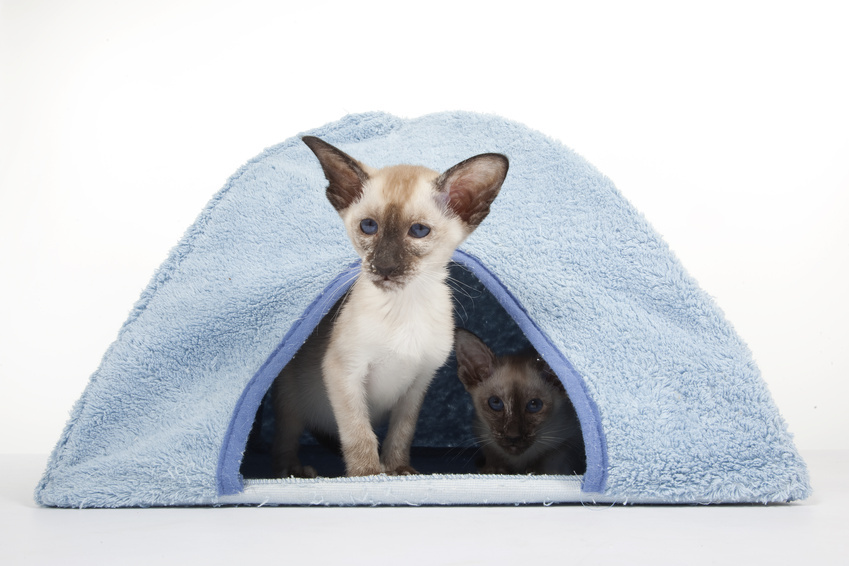 Igloo cat beds are fully enclosed cat beds with a single entrance. Common models include triangular or pyramid igloos or rounded igloos. Soft, plush igloo models are the most common, but you can also find wooden and wicker models. Enclosed cat beds are a great choice in winter, particularly the plush models, as they help to keep your cat warm, by trapping heat. Additionally, igloo beds provide a more natural sleeping environment, giving the bed a den-like feel. Cats like to retreat to a safe place when they feel threatened or anxious, and, because an igloo bed is enclosed all around, apart from the entrance, it helps your cat to feel safe.
Basket Cat Beds
Basket cat beds are more traditional style and generally take up less space than igloo cat beds. There is a huge range of options when it comes to basket-style cat beds, including wicker baskets, hard plastic baskets, and plush baskets. If you choose a wicker or plastic basket, you should purchase a soft cat sleeping mat or pillow to place in the base of the basket. Consider adding a blanket in colder weather. Baskets provide better airflow and a cooler sleeping environment in hot weather, but should be in a warm spot or near a heat source in cold weather to provide enough warmth for your cat. You can usually launder plush baskets in a washing machine and plastic and wicker baskets are easy to wipe clean and keep free of bacteria and parasites.
Igloo Cat Bed or Basket Cat Bed?
Igloo cat beds are a good option for the winter and for cats of a nervous disposition. While they are more challenging to keep clean and free of parasites than basket cat beds, igloo cat beds provide a more natural sleeping environment and a dark, enclosed space to help your cat relax and feel safe. Because igloo beds are larger and taller than basket beds, and because they have more nooks and crannies, they are harder to clean and keep free of parasites, but they do provide extra warmth during cold weather. Basket beds provide an open sleeping environment, so are not ideal for cold homes or for anxious cats. The open style and wider choice of material makes basket beds easier to clean and a good option for warm periods.