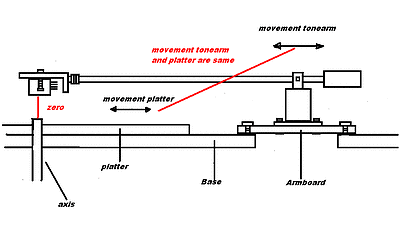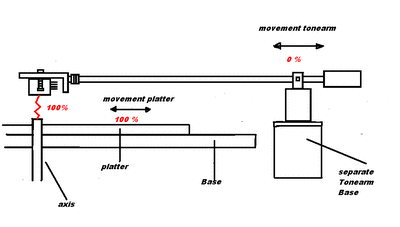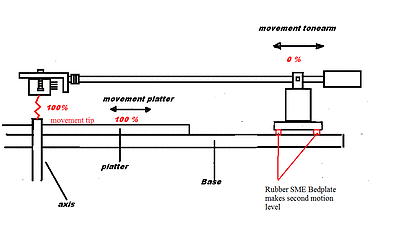 Separation of the Tonearm ( stand alone Basis ect,)from the chassis is not recommended , this will not produce the best sound . The tonearm needs a rigid coupling to the axis of the platter . The Thorens TD124 has this ability with the use of an armboard rigid coupled
(without any rubber elements) to the TT chassis and of the axis of the platter . When you separate the tonearm from the chassis by mounting it off the chassis and onto the plinth or deck you have different motion levels .

For Example ; When the tonearm is not rigid coupled to the platter we have separate movement , the chassis has vibrations from the motor , vibrations from the action of soundwaves from loudspeakers on the plinth , etc. The tonearm has vibrations from soundwaves etrc from the deck or plinth , The movement is not the same which causes deflection of the cartridge . However when the tonearm is rigid coupled to the platter of the turntable the movement is the same for the platter and the tonearm resulting in zero deflection at the cartridge .
This is the reason that it is strongly recommended to use a Thorens Armboard mounted on the chassis of the TD124
Note : When using an SME tonearm it is recommended to remove the bed plate grommets or the same problem of deflection will result .
More Information on SME mounting :
A Plate for mounting an SME Tonearm without the rubber grommets in the SME slide base bed plate . Opinions vary , however most experts including Soundsupports agree that this rigid method of mounting give superior sound quality over the original grommet method . This comes with screws for fixing the arm to the plate . It is also suitable for Thorens TD145 , TD160 , TD146 , TD147 , TD165 , and TD166 .
please Google to this
Soundsupports - Thorens TD160 ETC
All these Plates and armboards are manufactured from military spec Aluminium to exremely tight tolerances with a high quality satin finish.

Here is another comment from a member of vinylengine(please Google)
I have recently discovered that my 3009 Series II arm sounds significantly better on my TD124/II without the bed plate grommets installed. Bass tightened significantly and is more controlled, some mid bass bloat disappeared, everything sounds a bit cleaner and more dynamic, and in general it images a bit better.