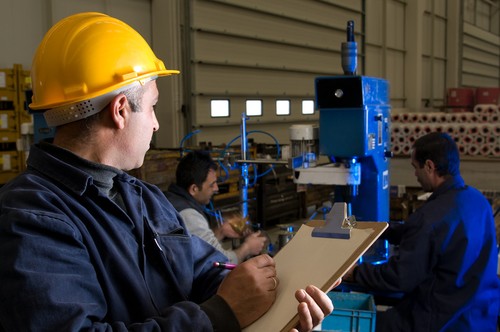 Automation and control equipment can be invaluable in the production and distribution of goods and information. It is able to improve production rates and diminish labour costs. Many machines can also ensure quality control more effectively than human management. However, despite the usefulness of these machines, they are prone to mechanical and electronic malfunctions that can damage the end product. Due to the size and nature of some automation equipment, it also poses potential dangers to workers in the general vicinity.
There are several ways to prevent things from going wrong while using industrial automation and control equipment. One of the most important is to hire technicians to diagnose and repair any potential problems with the machines. Users should follow strict safety regulations to ensure their well-being. Choose equipment with compatible data formats to ensure proper functioning and set all control parameters carefully to ensure that the machine does not exceed its limitations. Owners and operators should also be familiar with the sensors and fail-safe mechanisms in place on a piece of equipment.
Industrial automation and control equipment can be purchased from speciality retailers and sellers on online marketplaces, such as eBay. In addition to new items, buyers can also select used equipment that potentially can save large amounts of money. Shop around to find the best products and prices, and use all equipment in the correct way to help to ensure that nothing goes wrong during use.
Employ Skilled Technicians
Although the machines used to complete tasks in an industrial environment are able to increase output and precision, they still require regular manual maintenance to perform at their optimum level. Without proper maintenance and repairs, industrial automation and control equipment is liable to cause expensive and time-consuming errors. For example, a machine may fill a product with liquid to less than the desired amount. If left unchecked, this error can cause thousands of bottles to be filled incorrectly, requiring the process to be repeated at the manufacturer's own expense.
Machines may also become broken and inoperable if not attended to. This not only requires expensive repairs, but ceases productivity altogether. Without the manual workforce needed to maintain the machine, delays caused by the repair time can be costly. To avoid these problems, it is important to maintain a staff of knowledgeable mechanics that can assess and repair any potential problems with the equipment as they occur. If there are not enough machines to warrant on-site staff, then hire technicians on a regular basis to inspect the equipment and perform any needed repairs.
Ensure Compatibility
Computerised control equipment is compatible only with specific data transfer formats. Older machines use tape readers for this task and many of these units are still in use due to their long lifespan. However, modern machines use USB drives and local area networking for control, which is normally incompatible with the older tape-based machines. In larger manufacturing facilities, complete integration can be important for the proper functioning of all tools and equipment. To ensure that the entire system functions properly, it may be necessary to purchase equipment that makes use of the same format.
Establish Control Parameters
Industrial automation and control equipment is designed to be set to the specific needs of the user. This calibration process allows machines to be used in a variety of ways, although it is important to establish control parameters that protect the machine, its product, and any workers in the area. Most tools do not have any fixed limits on their axis motion and can be set easily in such a way that their parts grind or knock against each other. This results in damage to the machine, which can create the need for costly repairs or set back production times significantly.
In some cases, a machine that has been programmed outside its expected parameters may become irreparably damaged. It is therefore important to establish all control procedures as accurately as possible. Reference the manual for a machine to ensure that the actions performed do not place any unnecessary strain on the unit's components or structure.
Be Familiar with Sensors and Fail-Safe Mechanisms
Although machines can be programmed to operate in the way the user specifies, many are built with preprogrammed fail-safe mechanisms and sensors. For example, a load sensing system may recognise when the equipment has been overworked or is in danger of straining internal components, and at that point it can shut down automatically. However, even these settings can be adjusted to the specifications of the user and may allow for actions that are detrimental to the machine.
Become familiar with the types of safety settings and sensors that a machine is equipped with when it is initially set-up. Knowing whether a fail-safe mechanism is in place or not can be the difference between a self-contained incident that affects only the machine and a costly disruption that damages surrounding equipment, the product being manufactured, and any people nearby.
Regulate User Safety
Industrial automation equipment uses moving parts that can be dangerous or even deadly to human workers. To minimise the potential risk, it is important to regulate safety at all times. All operators should be trained properly in how to use the machine and they should be alert to its functioning patterns. It is also important to follow a strict dress code. Workers and people going near to the equipment should wear proper safety gear such as overalls, steel capped boots, goggles, and ear protection. Establish a dress code that is suitable for the equipment being used and adhere to it closely to minimise the danger to people nearby.
Thoroughly Inspect Used Machines
Due to the high cost and long life of industrial automation and control equipment, there is a large market for secondhand units. Although these can be obtained in excellent condition and may be used safely for many years, it is important to verify their condition before purchasing them. Ask for a demonstration of the unit to make sure that it is in working condition. Depending on the cost of the machine, it may even be worth hiring a technician to examine it and determine its functionality and the types of repairs that may be needed. Avoid using a machine if inconsistencies are noticed during its use.
How to Buy Industrial Automation and Control Equipment on eBay
Industrial automation and control equipment can be purchased from the sellers on eBay, and is available in new and used condition. To find items, begin a keyword search from the home page. For example, type "temperature controller" into the search field to see all items tagged with those terms. You may also use eBay's category links to refine the search. Try using more specific keywords to find the most relevant results.
Once you have located the right products, take a moment to inspect individual items. Click on the name or image of an item to see its full listing. There you can find detailed information about its performance capabilities and condition. Read the description provided by the seller and look for a specification sheet from the manufacturer of the item. Check the price and remember to include delivery charges into your estimate of the total cost. Examine photos of the item to be clear about the specific piece of equipment on offer and look for signs of wear or damage if purchasing a used product.
Seller Feedback
Sellers on eBay have a feedback rating that reflects the satisfaction of their buyers within the past 12 months. Compare this information with the number of completed transactions to determine quickly a seller's experience and reliability. You can find additional information by clicking on the seller's name in an item listing. Full profiles show average ratings based on key aspects of the seller's performance such as dispatch times and communication, as well as comments left by previous buyers.
Conclusion
Industrial automation and control equipment can improve accuracy and production rates. It can also lower labour costs. However, like all machines this equipment must be well maintained in order to perform properly. It does require occasional repairs. Employ technicians to inspect and repair units regularly. Automation equipment can also be inherently dangerous, so it is important for all workers in the area to practice safety precautions. Proper attire and protection is vital, as is an awareness of a machine's functions.
Check the parts and equipment for compatibility when making a purchase. Most control units are designed with a specific data transfer format, so it is important to match them with the automation equipment for optimum performance. In large manufacturing facilities, it may even be worth investing in a complete system that uses only a single data transfer format. Be familiar with a machine's sensors and fail-safe mechanisms and set the parameters correctly so the machine does not cause damage to itself during operation.
Industrial automation and control equipment can be purchased on eBay, which has listings for both new and used products. Browse the items to find the most suitable equipment and read product manuals carefully to ensure proper use.