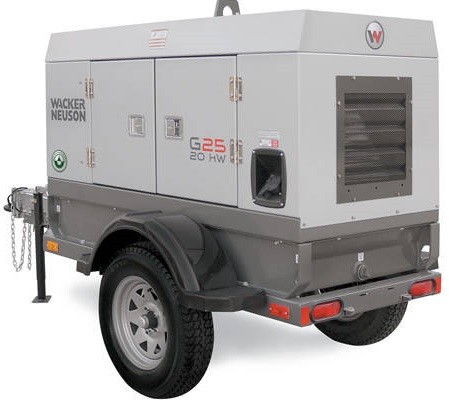 Industrial generators are devices that provide reliable power to countless individuals and businesses on a regular basis. These engine-powered devices can be leveraged in a wide array of situations to adequately power any activity, from work to recreation to activities around the house. Today's industrial generators come in a range of designs that increase their diversity and applicability to a consumer's needs.
For consumers who are considering shopping for an industrial generator, it can add a good deal of clarity to the process if they first have an understanding of all the various applications associated with these units. This may give them insight into the types of generators they need or even make them aware of an additional scenario in which they could use a new generator. With this knowledge in hand, consumers can also benefit from knowing the best retail options for purchasing industrial generators. There are traditional, brick and mortar industrial equipment retailers to consider, but, by and large, an online retailer like eBay provides the most diverse catalogue from which consumers can choose.
Applications for an Industrial Generator
Applications for industrial generators are many and varied and fall into three general categories: business applications, recreational applications, and domestic applications. Consumers may find scenarios in any one or more of these categories that apply and make an industrial generator a good investment.
Business and Industry Applications for an Industrial Generator
Countless businesses rely on industrial generators to provide a reliable backup power plan to ensure their businesses remain operational at any given time. Industrial generators are capable of producing a lot of power and are relevant in a business setting under both regular and emergency conditions.
Remote Business Operations
Portable generators may be used by businesses in a number of remote settings. One of the primary uses of industrial generators in a business setting is on construction sites. Contractors, commercial builders, and on-site professionals all need remote power on a daily basis. The basic operational needs of building require remote power to drive power tools at the very least. Even if a company uses an air compressor to operate its tools, that compressor itself is still in need of remote power. Many construction sites also run on-site offices that require remote energy for powering computers, printers, phones, and other devices used in a professional office setting.
Businesses within the service industry often have need of an industrial generator. A restaurant or cafe, for example, that runs a catering trailer might need a generator to provide power for major appliances like fridges when on the road. Generators are also often used by film and television productions on location. Many times, a shoot can take a crew to a remote location with no electricity source. An entire crew's equipment can be powered by an industrial generator.
Emergency Business Applications for Industrial Generators
There are many emergency scenarios in which a business might need an industrial generator, as well. Businesses in the foodservice industry might want an industrial generator on hand in case of an electrical outage. If an outage were to occur for an extended period of time, stored foods would go bad quickly and put a large dent in a restaurant's finances.
Even more serious is the emergency application of industrial generators in medical settings. Hospitals, clinics, and respite care facilities always have industrial generators on site for emergency situations. The loss of power in one of these facilities could actually be a case of life or death, as many patients are hooked up to life-saving machines. Using a generator at a business in an emergency also ensures that lights stay on and that a business remains safe for employees after dark.
Recreational Applications for an Industrial Generator
Industrial generators can also be useful tools in recreational settings. Individuals engaging in recreational activities often have a need for power when they are quite far from electricity.
Football Matches and Other Sports Events
One popular option is using a generator to power cookers, radios, and more at sporting events. Fans may want a suitcase generator, for example, to run their own sideline or parking lot celebration before a match. Parents running a match in a children's league may also want a generator to power sideline concession services for players and fans, as well.
Camping and Outdoor Recreation
Industrial generators can also be extremely useful on camping trips or when indulging in outdoor recreational activities, although much smaller generators are usually adequate for simple camping activities. A campsite with a generator can run useful items like heaters, electric grills, and even entertainment devices, such as televisions and radios. A silent generator can also power lights at night to keep a campsite extra safe for campers without disturbing their sleep. Some campers who use RVs are often in need of generators, as well. RVs need power for everything from a stove to keeping a toilet operational.
A large-scale picnic at a remote location could also benefit from a generator. Individuals serving a large number of people at a remote setting might want a generator on hand to keep a large quantity of food and drinks chilled. A generator in this context can also power entertainment systems, such as music players and speakers, to keep a crowd engaged and in good spirits.
Domestic Applications for an Industrial Generator
Industrial generators can also come in handy for a variety of domestic applications. Scenarios as diverse as blackouts to doing chores can be facilitated by a generator in a home.
Emergency Domestic Applications for Industrial Generators
Blackouts occur on a regular basis in many parts of the U.K. Blackouts often mean homeowners have to dump out an entire fridge or freezer of food or grope their way through the dark at night without lights. Having an emergency generator on hand can be a real saving grace in these types of scenarios. Especially in cold settings in the winter, a generator can keep a home warm and safe during extended blackouts. In any of these scenarios, users should always keep in mind that generators should only be operated outside. A generator used inside a home can present a serious health hazard to anyone in the house.
Daily Domestic Applications for Industrial Generators
Generators are also useful at home in much more run-of-the-mill scenarios. If one has a large property, for example, running a generator can be useful for doing yard chores and running outside appliances and power tools. A generator can also serve as remote power for a tool shed or other remote building. Again, in any of these scenarios, the only recommended application for an industrial generator is exterior operation.
Choosing an Industrial Generator
When purchasing a generator, consumers should consider how much wattage they need to operate the devices they want. A large-scale generator delivers power in the tens of thousands of watts, while a smaller unit for recreational purposes might only deliver a few kilowatts. A good rule of thumb is to create a list of any and all appliances that may be used on a generator along with their wattage ranges. Adding these together can provide an initial range to use as a guideline. Consulting with a vendor of a generator can also provide some useful guidance during this process.
Buying Industrial Generators on eBay
The online aggregator eBay has a large collection of new and even used generators available for purchase. Visiting this site for the first time, you should be able to find a user-friendly search bar on any page. Use this interface to run a search for a generator with a descriptive term. Once this pulls up some listings related to your search, begin looking through your results for items that seem applicable to your needs.
Evaluating Sellers on eBay
When buying any item on eBay, you can always benefit from evaluating any of the sellers from whom you are interested in buying something. To do this, click on the seller's name on the listing page. Once you arrive on the seller's page, begin looking through their past listings to see the range of products with which they have experience. You can also look through a seller's feedback to gauge their experience with certain products and with customers. This provides clarity as to whether a vendor can get you the type of generator you need.
Conclusion
Operating a generator offers countless benefits to individuals in domestic, recreational, and business settings. Anyone from a restaurateur to a weekend gardener to a small business owner can benefit from owning an industrial generator. These portable units provide energy for anything from power tools to lights to laptops to ensure the safety and comfort of users. They have been used by homeowners during blackouts, by campers on recreational outings, and by major medical facilities as reliable backup power units for critical hospital equipment during outages.
Consumers interested in buying a generator can access a wide variety of generators on the online aggregator site eBay. By bringing together multiple vendors, eBay provides consumers with a deep catalogue of options to consider. Local home improvement stores typically have standard home-size generators available, but industrial generators are much less common. Buyers may have to find a local industrial equipment dealer if they do not want to shop online.