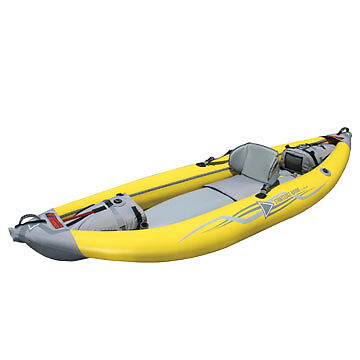 Kayaking is a good way to enjoy being on the water and to get exercise. In the case of some fast-moving rivers, a kayak is the only way to travel on the water. More and more paddlers are moving away from traditional hardshell vessels and to inflatable kayaks, because these waterborne craft are more portable and easier to store than hardshell kayaks. Many paddlers are glad to trade a few extra minutes of inflating and deflating their kayaks for the ability to take them places that are inaccessible with hardshell kayaks.
Before purchasing an inflatable kayak, the consumer should do some homework. In order to successfully purchase the right product, consumers must consider the type of inflatable kayak they prefer and how they plan to store and carry it. They should also be familiar with inflatable kayak specifications, parts, and the accessories that they need to go along with their vessels. By planning ahead and doing some research, a consumer should be able to find the right inflatable kayak from an online source such as eBay.
Considerations in Buying an Inflatable Kayak
Before shopping for an inflatable kayak, the consumer should consider the types of inflatable kayak available and how the kayak is to be stored and transported after purchasing it. Consumers are more likely to be satisfied with their purchases over the long term if they consider these important points.
Types of Inflatable Kayaks
The type of inflatable kayak that a consumer purchases depends on how he or she plans to use the kayak. Each different type of inflatable kayak is designed with one or more specific uses in mind.
Touring Kayak
Inflatable touring kayaks are long and thin, a design that is meant to reduce the effort involved in travelling through flat water. It is possible to use touring kayaks in both freshwater and ocean water. Many touring kayaks have a rudder or are rudder-compatible for easier steering.
White Water Kayak
Inflatable white water kayaks are shorter and wider than touring kayaks. The moving water transports the kayak, requiring less propelling effort from the user. The width of the kayak gives it stability, and the reduced length makes it easier to navigate around obstacles such as rocks and fallen trees. Inflatable white water kayaks may also feature scupper holes to drain water from the cockpit and d-rings for securing bags.
Sea Kayak
Inflatable sea kayaks largely fall under the broader category of touring kayaks since they are long and thin. However, inflatable kayaks designed for use on the sea are likely to have added features such as scupper holes for drainage and d-rings for securing bags.
Fishing Kayak
Inflatable fishing kayaks are between the widths and lengths of touring kayaks and whitewater kayaks, and they are more rounded at the front and back. This makes them stable enough to fish from and sleek enough to propel by paddle. They also have a number of special features geared towards fishermen, such as rod holders, an anchor cleat, bait bucket, and tackle compartment.
Sit-On-Top Kayak
Inflatable sit-on-top kayaks feature an elevated seat that places the kayaker on top of the vessel rather than in its cockpit. This design makes these kayaks well-suited to recreational use. Like fishing kayaks, inflatable sit-on-top kayaks are wider than touring kayaks. This makes them stable enough for fishing or even scuba diving, but many kayakers like the design for leisurely paddling.
Storage and Transportation of an Inflatable Kayak
Two of the main advantages of inflatable kayaks over hardshell ones is that they are easier to store and transport. A deflated kayak takes up very little storage space and often packs small enough for carrying in a large backpack. However, consumers should keep in mind that the more heavy duty the inflatable kayak is, the less compact it is when deflated. This is because the material is thicker. Therefore, the consumer must balance the packability of a kayak with the quality of its construction.
Inflatable Kayak Specifications
After deciding on the type of inflatable kayak to purchase, the consumer can consider the different specifications for the kayak type. It is important to take factors such as seating, material, length, and weight into account before making a buying decision, but some of these may not vary a great deal depending on the type of kayak a consumer has settled upon.
Seating in the Kayak
Inflatable kayaks may have single, double, or triple seating. The seats run in a column the length of the kayak. White water kayaks usually are of the single-seat variety, although some do have double seating. Touring kayaks can often accommodate two or three passengers. Those planning to share paddling duties with others should look at inflatable kayaks with double or triple seating. Seat backs may be inflatable, or they may be foam attachments.
Material of the Kayak
The primary material in an inflatable kayak may be hypalon, polyurethane, nylon, or PVC. Hypalon is more durable than the other materials, but it also weighs more. The other materials also tend to be more rigid when the kayak is inflated. Consumers must decide whether they prefer greater durability or stability when choosing amongst inflatable kayaks made from different materials.
Length of the Kayak
The length of an inflatable kayak depends largely on the type of kayak. White water kayaks tend to be about 3 m long, while touring kayaks can be 5 m long. Length is an important specification regarding how the kayak is meant to be used, but there is little variance once a consumer has decided to buy a certain type of inflatable kayak.
Weight
The weight of an inflatable kayak is an important specification for those who plan to hike with one. Heavier inflatable kayaks are generally made from thicker material and are therefore more resistant to puncture. Those who plan on carrying their inflatable kayaks should still aim for a lighter weight despite the greater likelihood of the kayak receiving a puncture. It is usually possible to patch a hole.
Inflatable Kayak Parts
It is important that consumers be familiar with the parts of inflatable kayaks before purchasing them. Knowing the parts and how they operate answers many questions consumers may have about using these products. The table below lists the commonly-found parts of inflatable kayaks.
| Part | Description |
| --- | --- |
| Air Chamber | Many air chambers; fill with air when kayak inflates; puncture results in a single air chamber draining rather than whole kayak |
| Valves or Stems | Where user fills kayak with air and drains it; each air chamber has a valve or a stem; valves are wide and stems narrow |
| Footrests | Some inflatable kayaks have them, and others do not; these inflate as well if they are present |
| D-Rings | Enable users to affix different accessories and parts to the kayak; good for tying down bags or non-inflatable backrests |
| Steering Devices | Can be a rudder, skeg, or strake; common on different types of inflatable touring kayaks |
| Scupper Holes | Self-bailing holes that drain water from inflatable kayaks; a good feature for paddling in rough water |
Not all inflatable kayaks have all of the parts described in the table. An inflatable white water kayak, for example, is not likely to have any steering devices, since the water propels the vessel. If certain parts are not present, it is sometimes possible to purchase them as separate attachments.
Inflatable Kayak Accessories
As important as an inflatable kayak is to enjoying self-propulsion on the water, paddlers need more than just their kayaks. Along with inflatable kayaks, consumers must purchase a few accessories, such as paddles, life vests, air pumps, storage bags, and patch kits, if they do not already have them.
Paddle
The paddles for inflatable kayaks function the same way as in hardshell kayaks. Inflatable ones tend to be slightly wider than hardshell kayaks, so consumers should purchase slightly longer paddles. Most consumers purchase inflatable kayaks for their portability, so they may also wish to consider four-piece paddles that break down nicely for easier carrying.
Life Vest
Although it is not necessary to propel an inflatable kayak, every paddler should wear a life vest while on the water. Also known as a personal flotation device, a life vest may be made out of buoyant materials, or it may also be inflated to create buoyancy. Paddlers end up in the water more frequently in white water, but owners of any type of kayak should wear a life vest while on the water.
Air Pump
There are air pumps specially designed for inflatable kayaks, so not just any air pump suffices. Inflatable kayaks require delivery of low-pressure air in the range of 3-5 psi. Air pumps may either be hand- or foot-operated. The former are considered more efficient, and the latter more comfortable to use.
Storage Bag
Storage bags are not necessary for some paddling situations, but many kayakers need to carry items with them on the water. A storage bag is waterproof, keeping clothes, camping items, and electronics dry even if the bag ends up in the water. Many storage bags maintain air in them when they are sealed, so they float in the water should they wind up there.
Patch Kit
Many inflatable kayaks come with a puncture repair kit to close any holes the kayak receives. Some puncture repair kits may not be suitable for certain paddling situations, like white water expeditions. Consumers should make sure their puncture repair kits can close a large puncture and keep it closed for a sustained period of time.
Buying an Inflatable Kayak on eBay
You can find inflatable kayaks at local outdoor sporting goods shops. eBay also offers a large selection of inflatable kayaks. You can easily search the website for the type of inflatable kayak you want by going to any eBay page and entering an applicable term such as "inflatable touring kayak" into the search bar. You can also use a broader search term, such as "inflatable kayak". There are likely to be more listings, but you should be able to sort through them to find inflatable kayaks that appeal to you.
You can choose to narrow a search by using the website's advanced search feature. This can help you locate inflatable kayaks within a specified price range or location of seller. The website also offers other filter options, so that you can find new or used inflatable kayaks or kayaks based on how many seats you want.
Before making a purchase on eBay, it is important that you take the time to understand the seller's background. The feedback the seller has received from previous customers can help you make a decision about whether or not you want to go ahead with a purchase.
Conclusion
Inflatable kayaks make paddling in their favourite spots a great deal easier for many kayakers. Other kayakers still using hardshell kayaks and those interested in taking up the sport can purchase inflatable kayaks if portability of their vessels is important to them.
Buying the right inflatable kayak can be challenging, but buyers should be successful if they do some research beforehand. It is important for consumers to consider the type of inflatable kayak they would like to purchase and how capable they are of storing and carrying a particular inflatable kayak. Consumers should also pay attention to an inflatable kayak's specifications, including its parts, seating options, the material from which it is made, its length, and its weight.
The website eBay offers a wide selection of inflatable kayaks that are available in the new and used conditions and incorporate the features that kayakers are looking for. Consumers can find just the right kinds of inflatable kayaks they need on eBay to enjoy paddling in places they could not reach before.