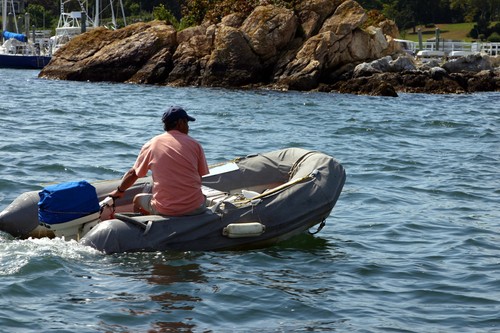 Adventure-seekers use inflatable sailing dinghies to navigate rough rivers and tides, as well as the deep blue sea. Experienced sailors tow them along, just in case of emergency, and they have saved many lives. In some cases, inflatable dinghies have even been used by many nations' militaries to accomplish missions. In short, an inflatable sailing dinghy can serve as a lifesaver in dire circumstances or as a fun afternoon diversion on a trip to the beach.
By considering the components of an inflatable dinghy and the different types of dinghies, the inner sailor can come out and enjoy the beach in an entirely new way. By learning how to set up and use a dinghy, as well as where to shop for a dinghy, anyone can feel prepared to take on rough waters. When looking around for the right inflatable sailing dinghy, stores that sell boat and other maritime sporting goods are excellent options, but not every geographic location has such a store nearby. However, inflatable dinghies and sail kits can often be found online through websites like eBay. At the click of a button, hundreds of listings appear on the computer screen, and this gives shoppers plenty of excellent options from which to choose.
What Is an Inflatable Sailing Dinghy?
Inflatable sailing dinghies not only bring peace of mind to those who are out to sea, but their sail-powered mobility is also environmentally minded and ergonomic, considering fuel is not needed to power a motor. Whatever adventure a buyer may be experiencing, the materials and design of an inflatable sailing dinghy are sturdy and reliable for tough situations when quality and safety are most needed. For the avid sailor, inflatable sailing dinghies are affordable, portable options that cost significantly less than the average sailboat. They can also be deflated and stowed, and this dramatically saves on high docking fees that would be charged at a marina.
Components of an Inflatable Sailing Dinghy
While there are various different types of inflatable dinghies that can be found in stores and online, all inflatable sailing dinghies share similar designs and materials that compile them into the same category. Every inflatable dinghy consists of a floorboard that can be made from aluminium, plywood, or other rigid materials sandwiched by two sides and a bow made by gas-inflated rubber tubes for flotation. Lastly, the sail comes in the form of a sail kit, which is stored separately in its own bag unassembled. The sail kit is comprised of several metal poles that are attached to form the mast and support system for the sail, along with the sail itself and paddles. By understanding what goes into the manufacturing of an inflatable sailing dinghy, a better comprehension of the vehicle for operation, maintenance, and repair can be achieved.
Types of Inflatable Sailing Dinghies
There are all sorts of different inflatable dinghies available, and selecting the right one is dependent on what use a buyer has in mind for the dinghy. For instance, some dinghies are designed for speed, while others are spacious for comfort and guests. Choosing the right type is essential for optimum satisfaction with the purchase for years to come.
Roll-Up Dinghy
Like the name suggests, the roll-up dinghy is stowable without having to remove the floorboard, so set-up and breakdown are quick and easy for the sailor that prioritises portability. The floors are made of wooden slats that are held within fabric pockets to give a flat surface to the bottom of the dinghy. This type of vehicle is ideal for calm water sailing.
Sports Boat Dinghy
Designed for speed and intensity, the sports boat dinghy still uses an inflatable system, only the floor consists of more durable plywood, plastic, or aluminium in order to be durable on fast and rough waters. The design of this dinghy is shallow and pointed in shape to give more control in choppy waters. The floorboards are removable for storage, as well. Shoppers who are looking at sports boats generally are not considering attaching a sail kit to the body, as speed is more important than the art of sailing for this buyer.
High Pressure Inflatable Floor Dinghy
The body of the high pressure inflatable floor dinghy is entirely inflatable, from the sides to the floorboards, which gives the design a light and fast-moving personality. This dinghy can perform as well as a sports boat with a motor, but it is also ideal for sailing, due to its light weight and fast set-up time. This type of dinghy is ideal for the buyer that cares about portability, time, performance, and weight.
Rigid Inflatable Dinghy
The rigid inflatable dinghy has a deep 'V' design and a heavy, durable floor that allows the dinghy to manage rough waters and navigate through abrasive matter like gravel and sand without worrying about punctures. However, due to its heaviness and non-removable floorboards, this dinghy cannot be fully deflated and stored in a bag for portability. This type of dinghy releases air from the side inflatables and is normally stowed on a dock, which takes up space. It is a good choice for the buyer who cares more about tackling rough situations than being able to carry or store the dinghy to save space.
How to Operate an Inflatable Sailing Dinghy
As mentioned before, the sail kit requires assembly before being able to operate the sailing dinghy as a whole. After inflating the dinghy, the mast step is placed on the crossbar at the front or bow of the dinghy. Mounting points are slid onto the mast step to support the leeboards, where fins or paddles are attached and partially submerged in the water to control wind. When the dinghy is in the water, the leeboards should be vertically angled.
Straps may be used to attach the various pieces in a quick manner. The rear crossbar is then attached to the back of the dinghy, where the motor mount fittings are located. The motor mount allows the option for a fuel-powered motor to be attached if sailing is not one's preference.
Once both crossbars are attached to either end of the dinghy, preparing the actual sail for attachment is the final step. The poles that make the mast should always be attached to the sail, even when they are being stored. By unfurling the sail and connecting all the sections of the mast, the sail is ready to be mounted to the two crossbars, hoisted, then tied securely to maintain a taut sail.
With the prepared sailing dinghy out on the water, a fun time on the water awaits. Basic sailing knowledge is required to manoeuvre a dinghy with a sail kit. Classes are available, and tutorials can be purchased in bookstores or marina stores, as well as online.
Finding Inflatable Dinghies and Sail Kits on eBay
Once the right type of inflatable dinghy has been decided on, it is easy to find the desired model on eBay by using the search box on the eBay home page. By inserting keywords or phrases like 'inflatable sailing dinghy' or 'sail kit' into the search box, you can search through a plethora of listings to make the right buying decision. Both new and used dinghies and sail kits can be found on eBay, and you can find the right dinghy for your own personal budget.
However, before making a final decision about purchasing from a specific seller, it is important to thoroughly research the seller's reputation. Although eBay is known for producing happy and satisfied users through thousands of daily transactions, looking at the feedback left by previous customers before buying is a wise course of action that can help you feel more confident about your decision to purchase a sailing dinghy via the Internet. Additionally, you can leave your own feedback about a seller once your transaction is complete.
It is possible to sort listings based on location, and this is probably a good idea for an item as large and heavy as an inflatable dinghy. Shipping may be a possibility with many sellers, but it could add significantly to the cost. Sorting the listings to find a local seller may be the best choice.
Conclusion
No matter what the purpose an inflatable dinghy might be, it is widely agreed that the invention is a useful one for navigating the waters of a lake or ocean. By using inflatable dinghies, sailors can enjoy the fun associated with sailing without worrying about the steep costs that are involved with maintaining and storing real sailboats in docks. Dinghies are lightweight, portable, and affordable. They can also be run by motors or by sail, the latter of which is often sold separately in sail kits. Sail kits are easy to use for a fun day sailing on the water.
Finding the right inflatable dinghy may seem like an arduous task when visiting marine shop after marine shop. For many who live inland, such brick and mortar stores may not even exist. Luckily, websites like eBay provide Internet users the chance to shop for dinghies from the privacy and comfort of their homes. By having a plethora of options to choose from, a buyer can purchase the perfect inflatable dinghy and sail kit so that a trip to the beach can be a little more exciting than beach volleyball or tanning on a towel.