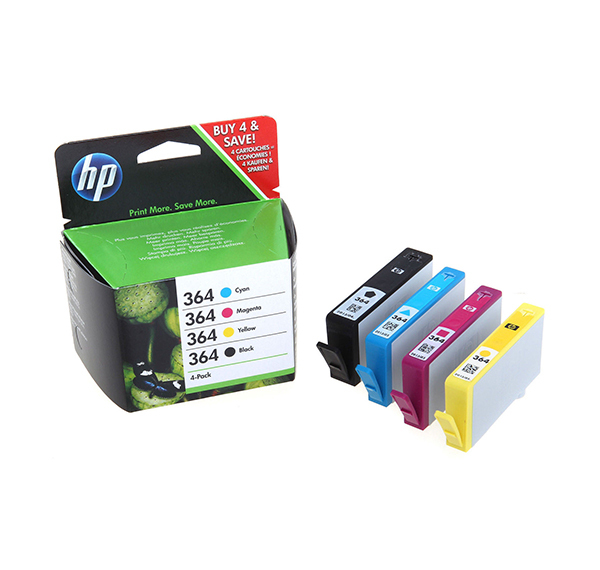 Printers are convenient devices that allow users to print documents and photographs for both business-related and personal reasons. Because printer paper can be expensive, it is advisable for users to purchase high-quality branded ink cartridges to produce quality documents the first time they create a print. Although aftermarket ink cartridges exist in the marketplace, branded ink cartridges are considered Original Equipment Manufacturer (OEM) items and must pass rigorous quality controls before they are released by a manufacturer.
Branded ink cartridges can be found from a range of local sources, like mass-market retailers and computer-specialty shops, as well as online at websites like eBay. Before shopping for branded ink cartridges, buyers should be aware of the differences between the proprietary designs that manufacturers use when creating ink cartridges for their products. Unlike some printer accessories, such as flash drives and cables, printer cartridges are not universal and must conform to the specifications of a printer. Understanding brand and product line compatibility, in addition to printer colour technology and optimal printing techniques, helps printer users purchase branded ink cartridges that can match the demands of any printing-related challenges.
Branded Ink Cartridges
An ink cartridge is a sophisticated electronics unit that must correspond to the design of a printer's components. Although the exterior of an ink cartridge looks basic, inside the cartridge is an intricate collection of modules that allows a printer to communicate with the cartridge's circuits and create prints using miniscule dots. Print cartridges generally pass over a piece of paper on a print head stepper motor moving left and right, reproducing images and text sent from a computer. In some manufacturers' printer models, an ink cartridge contains the print head, which is the part of the printer that sprays ink onto paper, while other manufacturers' models have a separate print head as part of the printer's permanent design. To maintain consistency, ink cartridge assemblies include a stabiliser bar, which controls the precision of the printer's stepper motor.
Since the design of every printer model is different, ink cartridge buyers must purchase ink cartridges, which are compatible with their brand of printer. Printer manufacturers develop and release replacement ink cartridges that buyers can purchase to guarantee compatibility and superior printing quality. Buyers searching for replacement ink cartridges should know the brand of their printers, like HP, Epson, or Canon, before shopping to make sure that they purchase the right branded ink cartridges for their printers. Although aftermarket ink cartridge options are available, purchasing branded ink cartridges is the only way for buyers to know that a cartridge's components can configure to their printers exactly.
Product Line Compatibility
Major printer manufacturers develop a variety of printer product lines under their signature brand names. This allows printer manufacturers to differentiate their products to meet consumer demands and offer a range of price points for each printer product line issued under a brand name. Because manufacturers must adapt the designs of their printer lines to accommodate different features, the compatible components for a manufacturer's product line vary in shape and construction. When shopping for ink cartridges, buyers must know the name and number of their printer models specifically to purchase the right branded ink cartridge for their printers.
Printer Product Line Information
To find essential printer product line information, buyers can use a number of sources. A printer's owner's manual contains detailed information about the names and model numbers of a printer and its compatible accessories, like ink cartridges, in addition to instructions about removing and installing a printer's ink cartridge. If an owner's manual has been misplaced, buyers could look on their printers for the printer's name, model number, and ink cartridge replacement information.
Conversely, buyers could check the website of a printer's manufacturer if they have trouble finding the information on their printers. Most manufacturer websites include product information for their models, so buyers can browse manufacturer websites until they locate their model's specifications and compatibility requirements.
Ink Cartridge Packaging Information
Once buyers know the brand, product line, model number, and cartridge compatibility of their printers, they can use this information to locate the correct ink cartridges for their printers when shopping. To distinguish between different ink cartridge models, manufacturers typically employ a number system to label their ink cartridges. Branded ink cartridges are clearly labelled with a manufacturer's brand name and the number of the cartridge on the front of their packaging.
On the back of the packaging, buyers can often find a list of compatible printer models that are appropriate for the design of the ink cartridge. Checking for compatibility when shopping ensures that buyers make the correct purchasing choice, an important point in cases where an ink cartridge cannot be returned if its packaging has been opened.
Ink Cartridge Colours
Modern printers can produce brilliant colours and rich black-and-white prints. To do this, they apply a colour printing system that uses combinations of basic colours to achieve a wide spectrum of colour hues. When shopping, buyers often need to choose which colours to replace to keep their printers operational.
| | |
| --- | --- |
| Ink Cartridge Colours | Description |
| | Cartridge contains only black pigment, which allows the cartridge to produce pure black print and greyscale print |
| | Cartridge contains pigment that is a greenish-blue colour |
| | Cartridge contains pigment that is a red-purple colour |
| | Cartridge contains pigment that is a pure yellow colour |
| | Cartridge contains three separate wells that hold magenta, cyan, and yellow pigments |
Most models of printers separate the ink cartridges used to contain black and coloured inks, but some also separate cyan, magenta, and yellow into individual cartridges. To choose the correct replacement ink cartridges, buyers must check the control screen on their printers for any low ink warning messages. Many printers can identify which ink cartridge is low, but users in doubt can print a test page to see which ink cartridge is losing the intensity of its colour to identify which cartridge needs replacement.
Optimal Printing Techniques
To get the most out of branded ink cartridges, buyers can apply a number of optimal printing techniques. These techniques can expand the printer's capacities and extend the lifespan of an ink cartridge.
Checking Printing Settings and Making Edits
The first step to increasing the lifespan of an ink cartridge and reducing the costs of printing mistakes is checking a document or photograph carefully before printing. Typos and colour correction issues should be edited before a print is created. Printer users can also take advantage of a printing preview to make sure their documents and photographs are centred and formatted to print at the correct size. In some cases, margins and borders print automatically unless a user changes a software's factory settings. Additionally, users may want to print double-sided documents and need to change settings to accommodate two-sided printing.
Printing Material Options
A lot of printing is done on standard-sized office paper, but printer users can expand the applications of their printers by printing on a variety of paper sizes and types. Many branded ink cartridges contain ink that is appropriate for printing on textured or photography-grade papers, and some can even print on materials, such as fabric. Choosing different-sized papers allows users to be creative and use their printers to develop a range of professional-looking greeting cards, cookbooks, newsletters, invitations, or business cards.
Ink Cartridge Preservation Methods
To preserve the integrity of branded ink cartridges, users can make sure they care for their cartridges correctly. All brands of ink cartridges are susceptible to drying out if they are not used regularly, so buyers should remember to establish a weekly printing schedule of both black and coloured ink cartridges. Buyers should also turn off their printers by powering them down correctly instead of simply pushing the power button. If a printer is not powered down correctly, the ink within a cartridge can be exposed to air through the printer's print heads, causing the ink within the cartridge to dry out quickly.
Buying Branded Ink Cartridges on eBay
Buyers searching for branded ink cartridges can use eBay to find the correct ink cartridges for most printer models. eBay carries branded ink cartridges for major printer manufacturers, like Brother, Lexmark, and Kodak, as well as smaller manufacturers like Ricoh and Sagem. When shopping for ink cartridges on eBay, buyers should note whether a cartridge is new , manufacturer refurbished, or seller refurbished. New ink cartridges have never been used, but manufacturer and seller refurbished cartridges have been refilled or repaired. Manufacturer refurbished cartridges have the distinction of being refilled or repaired by a cartridge's manufacturer or a dealer authorised to make repairs by a manufacturer.
Buyers should check the quantities of any ink cartridges they see listed on eBay because some eBay sellers offer cartridges in pairs or multiple quantities. To find branded ink cartridges on eBay quickly, buyers can search for listings by keywords. Simply type appropriate keywords, like "HP 301 ink cartridge", into eBay's convenient search field, and browse the results that eBay generates.
Conclusion
Branded ink cartridges allow users to create a rainbow of colours and rich text printing with their printers. To get the most out of a branded ink cartridge purchase, buyers should understand the basics of how an ink cartridge is developed to correspond with a specific type of printer. Each printer manufacturer creates unique, proprietary printer models with different component configurations. To configure correctly to these components, an ink cartridge must have a compatible design. Printer product lines vary within the offerings developed by manufacturers, so buyers need to be vigilant when choosing their branded ink cartridges. Ink cartridges also contain black or coloured inks that can be held separately or combined into one cartridge, depending on a printer model's specifications.
Since modern printers are highly adaptable to a variety of printing formats, buyers should remember that applying some printing techniques can expand the use of their printers. Branded ink cartridges can help buyers create printed materials that rival the results obtained by professional printers. Additionally, buyers can use some preservation methods to easily extend the longevity of their ink cartridges. Once buyers know the exact model of branded ink cartridges they need for their printers and how to use the ink cartridges strategically, they can visit eBay to find ink cartridges for a wide range of printer models.