Insect collecting and entomology is a fascinating hobby for many adults and children. Insect collectors enjoy finding and putting various species on display in their home. To do this, they need an insect display case, as it prevents the insects from exposure to the elements that decompose their bodies. Learning more about insect display cases can help you choose the right one for your insect collection.
Look for an Insect Display Case with a Soft Backing
The process of collecting insects involves catching, killing, and preserving the insects by putting them in a display case before their bodies dry and become too brittle and impossible to manipulate. Obviously, just throwing the collection of insects into a box is not a good way to show them off, so collectors pin the insects to a soft board made of a product such as styrofoam. Traditional insect display cases have a soft backing in which you insert the taxidermy pins. Keep in mind that the colour of the backing makes a difference. Many bugs are dark coloured, so a black background would make them nearly invisible. Look for a white or other light coloured background for the display case.
Look for an Insect Display in the Right Size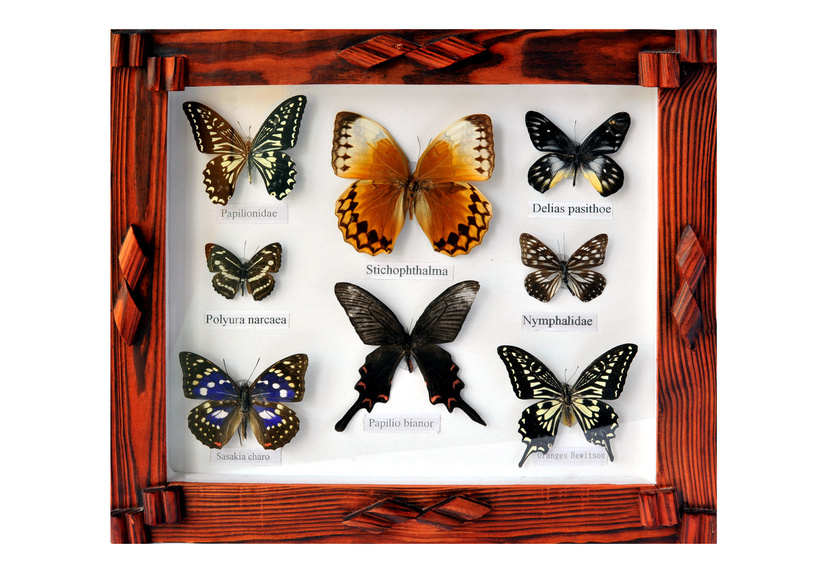 Sizes of insect display cases vary, with the standard being around 46 cm tall by 61 cm wide and 8 cm deep. However, such a large display case might not be ideal for those who are just starting and only have a few insects to display. Additionally, that one prized insect, such as a Blue Morpho butterfly, may deserve its own frame or display case.
Choose the Cover Material of the Insect Display Case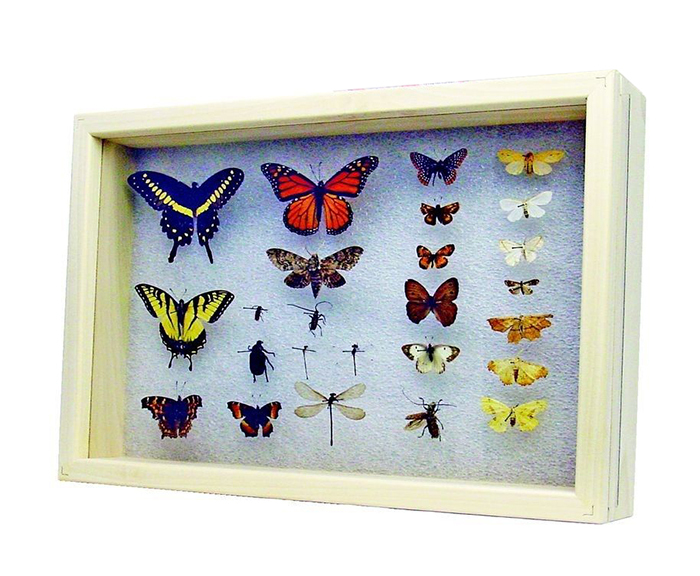 Display cases come with a glass, Plexiglas, or plastic cover. Usually, the cover swings open or slides onto the front of the box through grooves. Plastic tends to scratch and smudge so it is harder to keep clean and presentable, but it is also affordable. Glass and Plexiglas both look excellent, are durable, and are easy to clean. However, since Plexiglas is shatter resistant, it costs more than glass.
Choose the Box Material of the Insect Display Case
Insect display boxes are made of wood, plastic, or metal. Wooden boxes are durable, beautiful, and come in different styles and shades. Plastic ones tend to look a bit more flimsy unless they are designed well. Metal is attractive and durable, but costs the most out of the three options. When comparing materials, examine the construction to see how the cover attaches to the box and whether or not there is a hanger on the back. Not all insect display cases are meant to hang on the wall.