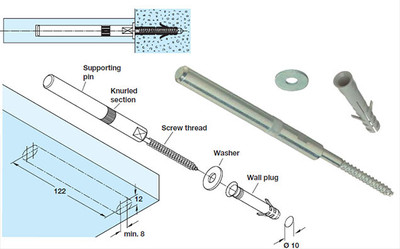 What you need to fit your floating shelf
When you purchase floating shelves from Premier Shelves, we supply a set of concealed fixing brackets/pins for you to hang your shelves in masonry walls or plasterboard walls where you can fix to the timber stud and noggins.
We pre-machine each shelf with elongated holes so the fixings can be adjusted with a spanner and the shelf can move up or down to make it level, and not misaligned. This makes the job so much easier than with just a quick drill hole (which has to be perfect or your shelf ends up wonky!).
When fitted correctly, each pair of fixings is able to hold up to 35kg in weight between them (including the weight of the shelf).
Before beginning to fit your fixings and shelves, make sure the walls have been checked for gas/water pipes or electrical cables before drilling!
To fit your shelf, you will need the following items:
Masonry / SDS hammer drill

10mm masonry drill bit

A spirit level and pencil

Tape measure

Hammer

Masking Tape

Adjustable spanner or pipe grips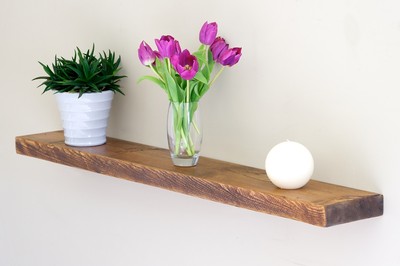 Add a caption
Beautiful floating shelves from Premier Shelves
Click to edit caption
Installation Instructions

Use the masking tape to mark where on the wall you would like to place your shelf.
Using the spirit level and your pencil, mark a level line across the masking tape ensuring the line is longer than you need.
Use your tape measure to measure the centre points of the holes on the back of your shelf, then transfer these measurements to your marked line on the wall.
Using the hammer drill and a 10mm masonry drill bit, drill your holes around 70mm deep, making sure your drill is level and square with the wall or the shelf will not sit correctly.
Take your plastic wall plugs and push them into the holes until they are flush with the wall - use a hammer if they are hard to push in.
Put the washer onto the screw thread of the concealed fixing pin and screw this into the wall plug until tight - do this for each fixing pin.
Using your spirit level, place this across your fixing pins and check their level. If they are level, you're ready to fit your shelf, if not, use your adjustable spanner or pipe grips to rotate the fixing/s to a level position.
Your shelf can now be pushed onto to the fixing brackets - do not push them all the way in at this point. Push the shelf on as far as the knurled section of the bracket them double check the level. If it needs a little more adjustment, use your spanner to make the final changes.
Once you're happy, you can push the shelf fully against the wall.