How to use Yarn Swift and Ball Winder?

Yarn Swift and Ball Winder are best knitting accessory for you to wind skein yarn to ready-to-use ball, save your time and make your ball winding neatly and easily. Below are 7 quick tips for your reference to use these cool gadgets.
1) Before place yarn on the swift, untie the skein and make sure both ends of the yarn are free from the skein as well as no twists in the skein.
2) Place your skein
Firstly, put your skein at the center part of the folded yarn swift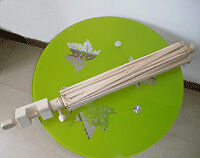 (Umbrella Yarn Swift that has been folded)
Secondly, push up the knob at the bottom of the shaft to expand the umbrella together with the skein. Adjust the swift to hold the skein in place, and then twist the bolt to hold the arms in that position.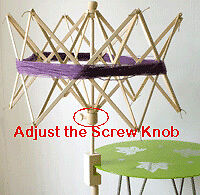 Thirdly, fix the swift to a table edge with the clamp-on base at the bottom. Please make sure to attach the swift to the table firmly since it may spin too quickly to wobble.
3) Fix the ball winder on table edge the same as yarn swift and ensure your two device 12-18 inches apart (or as you required) for the handle and swift easily turning.
4) Our swift can holds skeins up to 103 inch, and it is adjustable for different skein sizes. Screw the knob-like part of the swift to your desired circumference and then lock it into place, make sure that the knob is tightening firmly.
5) Nextly connect the yarn to the winder: slip the yarn onto the ball winder plastic cone by threading the metal shaft, and then secure the yarn end in the slot of the plastic disk. The metal shafts of ball winder can be swiveled to cooperate with yarn swift.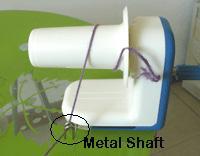 (You can also refer to the details of its usage instruction in our package)
6) Now that everything in place, you can begin to unwind the yarn from the skein and wind it back into a ball. Slowly turn the crank at the back of the winder in the direction come with the winder.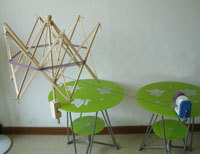 7) The finished yarn ball for quick and easy knitting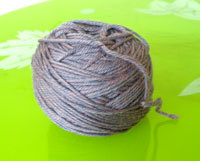 How to store yarn swift and ball winder?
Yarn swift is made of wood and each umbrella arms is tied with hemp rope, keep it away from exposure to sunlight and humidity environment. When the swift is not in use, fold it like an umbrella and store it in plastic bag to prevent it from weathering.
For proper care and good storage, you can also put it back to our inner package.