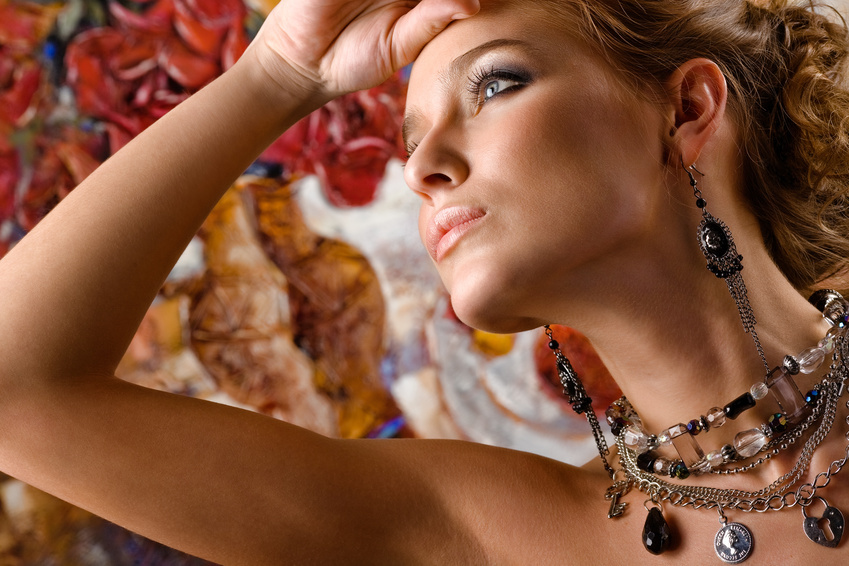 Integrating antique necklaces with your jewellery collection does not have to be difficult. The fact is, antique jewellery can add a touch of class and elegance to any jewellery collection; owners simply need to organise their jewellery sets in groups that facilitate designs from certain eras. For instance, an antique gold necklace from the victorian era would complement other sophisticated gold jewellery with intricate designs and crafting. It is also good to combine antique necklaces with other antique jewellery from the same or similar era.
Antique Silver Necklaces
Antique silver necklaces can fit in gracefully with an antique silver jewellery collection, a contemporary silver jewellery collection, or a collection of two-toned jewellery. The designs that accompany antique silver necklaces often include medium and fine-link chains with elegant pendants that could easily be a brooch. These pendants often include flower motifs, butterflies, hearts, or other delicate and feminine representations. Antique silver necklaces sometimes have a dull yet vibrant shine that shows its antiquity, but does not take away from its allure.
Antique Gold Necklaces

As with silver necklaces, antique gold necklaces can also fit in with an antique collection as well as a contemporary and two-toned collection. Antique gold jewellery often complements each other without much effort as long as similar designs and jewellery sizes are grouped together. For instance, you wouldn't group a delicate antique gold necklace and drop-pearl pendant with a broad-cuff contemporary gold bracelet. the fact is, collections have to complement each other in style and application. However, owners can still integrate antique jewellery with a contemporary collection as long as the pieces are relevant to each other.
Antique Pearl Necklaces

Antique pearl necklaces can be complete pearl bead necklaces or silver or gold chains with a substantial pearl pendant. Some people are under the assumption that pearl necklaces can only be grouped with other pearl jewellery, but that is not the case. Pearl is versatile and can be found in a number of colours. Collectors can easily group pearls in a collection of high fashion costume jewellery or a group of well selected fine jewellery. For instance, an all-pearl antique necklace could be paired with slender elegant dangle earrings and the earrings can be either gold, silver, or coloured depending on the colour of the pearl beads in the necklace. A simple plain slender bracelet or one outfitted with a few elegant charms could also join the collection.
Antique Diamond Necklaces
Antique diamond necklaces are grouped similarly to antique pearl necklaces. These jewellery items whether real or faux, tend to scream "high society" when grouped with the right accessories. Antique diamond necklaces are generally grouped as such based on their pendant's gemstone and rarely ever have anything to do with the chain itself. Therefore, they can easily integrate in a gold or silver necklace collection depending on the metal the chain is made from.