Should I invest in Art?
You should never buy Art solely for investment purposes - If you don't like it, don't buy it - it's that simple.
But, like wine and Guinness, it can take time to develop a taste. If at first you think you don't like a painting - it's important not to jump to judgment. Making an informed and balanced decision on art is as important as the initial gut instinct 'to buy or not to buy'.
In addition to knowing you love the work, buying a piece by a professional artist should contribute to its long-term value. For many people, art appears unaffordable and art galleries stuffy and unwelcoming. This isn't the case - there are art lovers across Ireland who, simply through their love of painting, have built up significant and important collections over the years, and they haven't earned the millions that many people think it takes.
There is no doubt that the recent financial crisis has taken its toll on the art market. Like any asset, art is susceptible to the volatilities of the marketplace. Each artist is unique, though, and not all collectible artists will experience a price correction in a downturn. Indeed it is the higher end, quality pieces that can continue to demand high prices regardless of what is happening in the economy.
Why buy art?
Anyone with an original painting knows how good it looks. Many pieces can be bought for the same price as a common print from Ikea or B&Q. So why not buy an original - one off - piece of art, which will be unique?
From a corporate or business point of view, buying or leasing a collection can set an office or business apart from competitors. While making decisions purely for investment purposes is a no-no, there is no doubt that the value of a painting often appreciates with age.
In fact, I'd go as far to say that of all the things you buy this year, unless you're buying acres of farmland, it's the only thing that will likely appreciate over time, or at least hold its value. Having that type of asset on a balance sheet these days is something which will brighten up the eyes of any banker, and with interest rates on cash at rock bottom, buying art can be a more effective way to store your money.
Most art galleries offer art consultancy services, and will guide you in the right direction on decisions involving any spend, large or small. Don't be intimidated by art or any gallery. Art dealers are keen to answer questions from those who are new to buying or collecting art. Don't force yourself to like a work just because 'it's popular' - trust your own gut and your 'eye' will develop from there. Once you have a bit of an eye it is only a matter of time for your wallet to follow suit.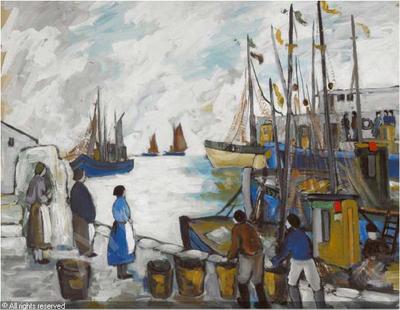 Markey Robinson
The auction record for a work by Markey Robinson was set in 2007, when his landscape painting, entitled The Harbour at Ardglass, County Down, was sold at DeVeres, in Dublin, for £38,000.
Art by Markey Robinson is highly sought after and prices have steadily risen in recent years.