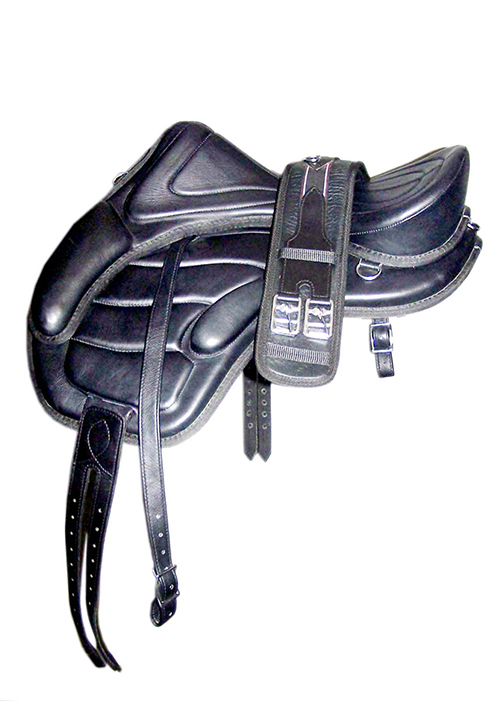 As the name suggests, a treeless saddle is made without saddle trees. Sometimes referred to as bareback pads, treeless saddles are important for horse racers and riding enthusiasts. Choosing a saddle that is both comfortable and fitting is essential. A treeless saddle that perfectly fits onto one horse might not fit onto another. They are available in various kinds, shapes, sizes, design, styles and materials. The three basic features are a cantle, which can be made from fibreglass; pommels; and a seat that mainly comprises of foam padding and leather. Breast plates ensure that the saddle does not turn when it is in use. A variety of saddles can be purchased from eBay.
The History of Treeless Saddles
Treeless saddles were developed from the traditional saddles that featured trees between the saddle and the horse. In order to create a closer contact and form of communication between the rider and the horse, the treeless saddles were invented. The main aim of introducing these kinds of saddles was to eliminate the drawbacks posed by the traditional saddles. Just like their counterparts, the treeless saddles must be tried on in order to find the one that that fits your horse. Unlike the traditional saddles that fit almost any horse, the treeless saddles fit only certain kinds of horses. Horse riders are also able to order customized saddles.
Styles of Treeless Saddles
Treeless saddles come in various styles. Some of the styles available in the market are endurance, hybrid, trail, models for barrel racing, and dressage styles. The treeless saddles must meet certain criteria. There is a weight limitation on the horse rider of approximately 200 lb. This weight limit is an exception to certain kinds of horses, such as those with broad backs and those that are flat withered like the Fresian horse species. In addition to the weight restrictions on horse riders, horse body specifications are also important when looking to purchase a treeless saddle. A variety of saddles can be purchased from online marketplaces like eBay.
How to Choose Treeless Saddles
Size
Treeless horse saddles come in various sizes just as horse come in all shapes and sizes. Most saddles fit on any horse considered to be of the right size. Even though some horses have very high withers, customized treeless saddles made specifically for a particular horse is the perfect solution for this challenge. Horse riders should ensure that the cups are slightly larger than their sizes. They should be approximately one to one and a half larger. Riders with heavy weights should ensure that the saddles are not just well padded to distribute their weight but also that their horses are healthy and capable of carrying their weights.
Colour
Treeless saddles are available in various colours. The most common colours are brown, black, and even white. The right colour will depend on the taste and preference of the rider, and even the colour of the horse's fur. For an attractive appearance, the saddle should come in a colour that either matches or contrasts the horse's coat colour.
Style
Choose a suitable treeless saddle of the right style that comfortably fits the horse. It should withstand the weight exerted by the rider on the horse's back. Riders with more than one horse should select versatile treeless saddles that can be used on almost any horse. Different brands manufacture different styles of treeless saddles that buyers can purchase.
Material
There are various materials used to make treeless saddles. One of the materials used to make saddles is pure leather. This ensures that they last for a very long time. This is due to the fact that leather is made from tanned hide, and are usually tough in nature. Suede is perfect for saddle seats as it enables the rider to stick onto the back of the horse without sliding off. These two materials also ensure that the saddles are of high quality.
Price
The price of a saddle is essential and varies from one seller to another. The materials used to make the treeless saddles affects their prices. Horse riders should establish a budget in advance so that they will be aware of the amount they are willing to spend on their treeless saddles. Depending on the established budget, riders can purchase either new or used treeless saddles for their horses. Buyers should invest their money in a product that they can use for a long period of time. There is a broad selection of saddles at online marketplaces like eBay.
Benefits of Treeless Saddles
There are several reasons horse riders should consider purchasing treeless saddles as opposed to other styles available in the market. These saddles enable riders to have a close contact with their horses by feeling each other just like when riding on bareback. This facilitates the communication between the rider and the horse hence a smooth and enjoyable ride. Since the rider's centre of gravity is also greatly lowered, this ensures that the rider is secure and safe while riding the horse. Ultimately, treeless saddles enable riders to maintain balance. This makes them an excellent saddle for beginners.
Concerns About Treeless Saddles
Though it depends on the individual rider, and ill-fitted treeless saddles could slide off the horse when someone is riding, dismounting, or mounting the horse. There are several factors that can lead to saddles sliding off the back of the horse. Riders with large body masses can lose balance and fall or slide off the horse. In case the treeless saddle has a seat that is not proportional, the rider can also easily slide off the horse. Therefore, buyers should ensure that the padding on the seat is not just of high quality but also very proportional all round.
In addition to being proportional, the padding on the treeless saddles should also be even to avoid sliding off the seat. The material used to make the saddle can also facilitate sliding off the horse. This means that in case it is made of leather, it should not be over-polished to make the rider slide off. Wearing trousers that do not easily slip off the surface of leather is essential.
Due to the fact that this kind of saddle lacks saddle trees, it can easily cinch when the rider is riding the horse. This occurs when the saddle sinks on the part where the rider sits inwards to form the shape of a cup. In order to manage this concern, there are several devices in the market that riders can use to rectify the condition of the saddle by stabilizing them. Though these concerns are experienced by certain horse riders, there are those who barely have any issues to deal with concerning their treeless saddles.
Finding the Right Treeless Saddle on eBay
A thorough search should be conducted when one is looking for the right treeless saddles. For instance, eBay features various sellers that sell different kinds of treeless saddles of different styles and brands. The right one is the one that fits any given horse it is intended for. When you are planning to make a purchase online it is important to gather all the saddle information you will need. Whether you are a beginner or a professional rider, the choice to use a treeless saddle is a personal one. The buyer only needs to type in a relevant keyword such as 'treeless saddles' on the search bar of any search engine which gives a range of results of sites selling the same product.
Before settling on one saddle, buyers should compare various treeless saddles from different eBay sellers. Their features must also be extensively compared. Saddles that come with warranties are very desirable, and it is important to find out if the seller guarantees to refund payments in the full amount if the buyer is not happy with the product.
Conclusion
Modern treeless saddles are functional, but perhaps not quite as decorative as they were in past centuries. Finding one that allows the rider and horse travel comfortably should be given the highest priority. You will need to consider a wide selection of saddles in order to find the treeless saddle that is right for you. A variety of saddles can be purchased from eBay.