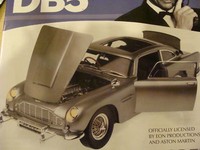 Will be supplied in 85 weekly parts from January 5th 2011 onwards (initially planned to be 75 at planning stage).
This is a bolt together model, using scrws and bolts, unlike the mclaren Formula 1 car from deagostini which requires modelling skills and glue etc, this model is easy to make up.
A few goodies for you if you subscribe with GE FABBRI , not available if you buy them in the newsagents.
Subscription bonuses
Magazine binder
HF Ullman - Aston Martin Book
Goldfinger DVD - Region 2 UK Europe
Screwdrivers
Screwbox
The goodies are pretty rubbish actually , comsidering what has been supplied with other subscriptions. the book is good, but if you are an Aston fan you probably have it already.
FYI - FABBRI were also responsible for the endless James Bond 1/43 car collection.
If you live outside the UK you may well be able to get this soon in your country.
I can imagine that all the countries that had access to the 1/43 collection will have access to this collection too.
Ive just started assembling mine.... only to find that some parts are broken in the packets.
Some of the parts are pretty weak , this is what ive found so far.
23 - the steering wheel assembly
48 - the front windscreen surround
If you are subscribed then the manufacturer will replace free of charge... if not then go back to your seller.
The assembly is very simple, screws and push fit ... sometimes what screw to use isnt that obvious
however if you look on the manufacturer website there is a very useful guide to the screw types ...
which i have kept handy through out my my building sessions.