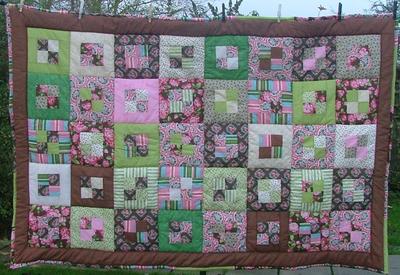 QUILTING WITH A JELLY ROLL?
A what? Sounds messy, doesn't it? Lots of people quilt with Fat Quarters (see my 2 guides on what a fat quarter is and making your first fat quarter quilt) but recently a new cut of fabric has come along - the Jelly Roll.
The fabric firm Moda produced the first ones and now lots of other fabric producers and quilting shops have put together selections of different designs. Sometimes they call them by other names - Pops or Strips. Check the width of the strips as some are narrower and some Jelly Rolls contain less strips than the usual 40 (I have seen 20, 10 and even odd amounts when a set is cut from a fabric collection).
A Jelly Roll is generally a collection of 40 strips of fabric that are 2 1/2 inches cut across the width of the fabric which is usually 44-45 inches. These fabrics are rolled into a fat roll that looks like a slice of swiss roll. They are called jelly rolls because that is what Americans call a swiss roll.
The fabric should not be washed before use (imagine what a frayed mess you would get) and you have to be very careful with seam allowance when sewing. Having said that, what a wonderful excuse to try something new! I find it much easier since I bought a special 1/4 inch guide foot for my sewing machine (but do remember to change the foot when you are doing other sewing).
You could buy fabrics to cut into strips yourself, or use your stash, but it means buying a lot to get the large variety of fabrics that come in one ready to sew roll.
There are a growing number of patterns and books for jelly rolls. I bought a book that has some really lovely patterns in it - you might like to try getting 'Jelly Roll Quilts' by Pam & Nicky Lintott, published by David & Charles. I have no links with the authors or their quilting shop but it seems a good place to start if you fancy a non-fattening jelly roll.
The photo attached to this quide is of my first jelly roll quilt made in the Pandora's Box pattern from the book above. I wanted to make something for 5 year old Chloe that wan't too girlie pink and I am very pleased with how this one turned out. I'm hooked and am already on a fourth jelly roll quilt....
Happy Sewing.