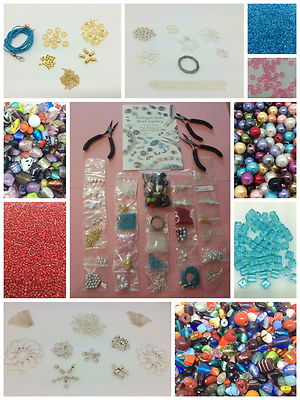 I introduced jewellery making kits as so many of my clients asked if i offered everything including beads,finding and tools for people wishing to start making their own jewellery...........so after many requests i listed my jewellery making kits, we have a range of kits from beginners to the more experienced beader, see below for one of the kits we offer:
Jewellery making kit (click on link or picture to see kit)
The kits contain everything you could need to have a go at making your own pieces including the pliers which makes it excellent value, instructions on making a few simple pieces are also included so you can start as soon as you receive the kit - some of my clients have made the following comments -
"such excellent value"
"couldn't believe i had everything i needed"
Jewellery making is a great way of relaxing, learning an new skill and is ideal for all ages, plus you get the enjoyment of wearing items that you make.

Sparkle and shimmer with your own handmade jewellery, with one of my beautiful beading set. From bracelets and exquiste necklaces, discover everything you need to make your own beautiful jewellery

We are working on introducting new items all the time, so if there is anything that we dont offer please contact us!

Good luck and happy beading........Beads Galore UK
Have fun