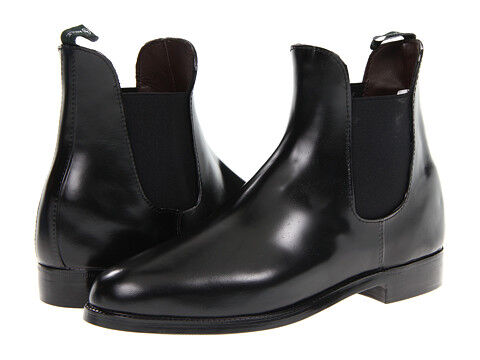 There is no feeling more liberating than riding on horseback with a light English breeze grazing the face. Wearing the right pair of trousers should only enhance that sense of freedom, and Jodhpur trousers are known amongst equestrian riders for their comfortable fit and traditional tailoring. While Jodhpur trousers, which originated in the city of Jodhpur, India, can be worn with tall riding boots, their ankle-length hem is made for being matched with the boots of the same name.
Jodhpur boots are classic equestrian riding boots that sit ankle-high and are characterised by an ankle strap and wooden heel. The beauty of the Jodhpur boot is that it is functional and fashionable so that every rider can look sharp while sitting high on a horse. Much like the Jodhpur trousers, Jodhpur boots are designed for comfort and a snug fit to help horseback riders maintain control and look good while they do it.
Jodhpur boots, along with other equestrian clothing, equipment, and accessories, can be found in some shoe shops or in shops that specialise in equestrian products. However, not every city offers the latter type of specialty store, and the variety of riding boots may be somewhat diminished in stores that do carry the boots. One powerful way to shop for Jodhpur boots is to search online and browse the possibilities at sites like eBay, where the selection is much larger due to the extensive global network of sellers.
How to Wear Jodhpur Boots
Being ankle boots, Jodhpurs can be worn with the riding trousers of the same name. The beauty of Jodhpur boots is that they can be worn both on horseback and for a night out on the town. Because Jodhpurs lack any zippers or laces, they are simple to slip on or off and are held tight with an elastic side that is the staple characteristic of the boot. Whether a buyer is wearing pants, shorts, skirts, or a lovely sundress when the sun comes out, Jodhpur boots are sophisticated and casual all in one elegant shoe design.
Boot Sizing Chart
When shopping for the perfect pair of Jodhpur boots, it is important to know the proper shoe size to ensure optimal comfort and fit. Sizing charts vary, depending on countries and regions. By comparing the different sizes, the buyer can rest assured that the correct shoe size is ordered the first time around.
Men's Shoe Sizes
Men who are shopping for Jodhpur boots should pay attention to the proper sizing system according to the shoes' country or region of origin. Sizes differ from the United Kingdom to the United States and to the rest of Europe.
| | | | | | | | | | | | | | | | |
| --- | --- | --- | --- | --- | --- | --- | --- | --- | --- | --- | --- | --- | --- | --- | --- |
| U.K. | 2 | 3 | 4 | 5 | 6 | 7 | 8 | 9 | 10 | 11 | 12 | 13 | 14 | 15 | 16 |
| U.S. | 3 | 4 | 5 | 6 | 7 | 8 | 9 | 10 | 11 | 12 | 13 | 14 | 15 | 16 | 17 |
| E.U. | 37 | 38 | 39 | 40 | 41 | 42 | 43 | 44 | 45 | 46 | 47 | 48 | 49 | 50 | 51 |
Jodhpur boots are known around the world for their elegant yet rugged design, traditional history, and classic look. Men who sport such a brilliant pair of boots should also feel comfortable when wearing them. Buying the proper size is essential, and verifying the correct size before purchasing the boots helps reduce the risk of ill-fitting shoes.
Women's Shoe Sizes
Women's sizes are different from men's shoe sizes by about one number in the United States system and by two numbers in both the United Kingdom system and the European Union system. When shopping for Jodhpur boots, it is important to check that the proper size is being purchased. For instance, a size 6 boot is not the same from the United Kingdom as it is from the United States.
| | | | | | | | | | | | | | |
| --- | --- | --- | --- | --- | --- | --- | --- | --- | --- | --- | --- | --- | --- |
| U.K. | 2 | 3 | 4 | 5 | 6 | 7 | 8 | 9 | 10 | 11 | 12 | 13 | 14 |
| U.S. | 4 | 5 | 6 | 7 | 8 | 9 | 10 | 11 | 12 | 13 | 14 | 15 | 16-17 |
| E.U. | 35 | 36 | 37 | 38 | 39 | 40 | 41 | 42 | 43 | 44 | 45 | 46 | 47 |
Because Jodhpur boots are tight-fitting in nature, buying a shoe size up is recommended. Depending on the method that the boots are purchased, sellers may allow the buyer to exchange the boots for a different size if they are too loose or too tight. Along with checking for proper shoe size, it is also important that the buyer check for any store or website's policies on exchanging shoes for sizing purposes before purchasing a nice pair of Jodhpur boots.
Children's Shoe Sizes
Children's sizes are the most different from men or women's sizing charts, as the numbers for the United Kingdom and United States systems begin between size 9 and 10 but restart at size 1 halfway through the sizing chart. It is important to note that the United States sizing is about one size smaller than United Kingdom sizes.
| | | | | | | | | | | |
| --- | --- | --- | --- | --- | --- | --- | --- | --- | --- | --- |
| U.K. | 9 | 10 | 11 | 12 | 13 | 1 | 2 | 3 | 4 | 5 |
| U.S. | 10.5 | 11 | 11.5-12 | 12.5-13 | 13.5-1 | 1.5-2 | 2.5-3 | 3.5-4 | 4.5-5 | 5.5-6.5 |
| E.U. | 28 | 29 | 29-30 | 31 | 32-33 | 34 | 35 | 36 | 37 | 38 |
Since children are constantly growing, buying a size up from one's regular shoe size is recommended. This reduces the risk of the boot not fitting at all and allows the investment in a pair of quality boots to last for a longer period of time in a child's life. Jodhpurs are already tight-fitting in nature, so room for a foot to move as a child is aging is important. Regardless of age or gender, Jodhpur boots can be found in any size.
Accessories for Jodhpur Boots
Jodhpurs are excellent boots that easily transition between the corral and the streets, and accessories for riding horseback can be found to attach to the boots for times when the horse is the chosen companion. There are various sorts of accessories that are compatible with the Jodhpur boot.
Accessory

Description

Attachable spurs are great additions to improve communication with the horse when trotting

Removable so that transitioning from the stables to everyday life is seamless

A great way to store the cherished Jodhpur boots when they are not being worn

Protects the leather from drying out and rain from damaging the boots

Easy to carry the boots and other riding gear around when on the go

To keep those classic boots looking clean, fresh, and ready for a show

Comes in all sorts of colours to match the look of a unique pair of boots

Boot jacks help remove tight-fitting jodhpur boots after a long day

Every stable or home should have a good boot jack for such a task

Before applying boot polish, it is important to remove any dirt, mud, or other grime from a long day around the stables

A good boot cleaner is a must-have for the everyday equestrian

For those wet, muddy days that frequently characterise the U.K. countryside

Invaluable accessories for owners of quality Jodhpur boots

Make the chore of maintaining good leather boots a lot less difficult

Helpful accessories to protect the lower legs during long hours on horseback in ankle-length boots

Half chaps resemble a long boot look with a Jodhpur boot style

Heel Lifter

Jodhpur boots are known for their low heel designs, which are meant to provide comfort while in the saddle

Wooden heel lifters are accessories that are available to equestrians who desire a small lift
Whether some or all of these accessories are purchased, it can be agreed that Jodhpurs are excellent investments for both the stable and the shoe rack. Their look is timeless, functional, and versatile. Having accessories such as spurs, chaps, and some good boot cleaner keeps Jodhpur boots looking sharp and working smart.
Maintaining Jodhpur Boots
Because Jodhpur boots, like a lot of equestrian equipment and accessories, are made of leather and consistently undergo the wear and tear and stress of the sport, maintenance is a very important factor when considering the purchase of Jodhpur boots. Regular boot cleaning and restoring of the leather prolongs the life of a pair of boots, and this allows the wearer to save more money in the long run since riding boots can be very expensive investments.
There are various types of boot cleaners and boot polishes, although basic leather cleaners and polishes work just as well. The boots should be cleaned after each outing so the dirt does not have a chance to linger and stain or scratch the leather's surface. A thorough polishing is only necessary every couple of weeks or each month, depending on the frequency of use. Using a boot dryer on wet boots prevents water damage to the leather and shape of the boot as a whole, and this also extends the life of Jodhpur boots. As the riding community emphasises appearance and a particular dress code, boots should always look fresh and clean at the beginning of each visit to the stable. With proper maintenance, Jodhpur boots can last a lifetime.
Finding Jodhpur Boots and Accessories on eBay
When shopping for Jodhpur boots on eBay, the search box found on all the pages of the site, including the homepage, helps users find exactly what they want to find. By simply inserting keywords or phrases, such as 'brown Jodhpur boots', into the search box, specific related results are listed from eBay's large sales database within a matter of seconds. Search listings can be narrowed down based on price, so finding a boot that does not break the bank is very possible, as well.
Before committing to the purchase of a pair of Jodhpur boots on eBay, it is important that each buyer thoroughly research the reputation of the potential sellers. While eBay has a long history of successful daily transactions and satisfied customers, reviewing the feedback left by previous customers helps buyers feel more confident about their decisions when purchasing items on the Internet. Additionally, shoppers can leave their own feedback about their own buying experience, as well.
Conclusion
Feeling comfortable and free while enjoying a trot through the English countryside does not have to take away from a sense of style and confidence in one's riding gear. Because Jodhpur boots are designed to be comfortable, as well as echo the traditions of centuries of horseback riding, style and easy riding can go hand-in-hand.
Jodhpurs are recognised for their ankle length, sleek fit, and low heel. These boots look great in stirrups and on pavement, and they go with riding trousers, dark jeans, or even a skirt. The versatility of Jodhpur boots means that purchasing a pair is an excellent and wise investment for a ladies' wardrobe, especially for equestrian ladies. When shopping for the perfect pair of jodhpurs, it is important to determine one's exact shoe size to pick the correct pair. Many jodhpur boots have U.K., U.S., and E.U. sizes listed on the box. For those that do not, it is possible to determine quick conversions from one type of sizing to another.
Accessories for jodhpur boots, such as spurs or boot cleaner, are recommended purchases, as well. Maintenance of Jodhpur boots is essential to prolonging the life of the leather and the shape of the boot, not to mention it contributes to looking great in the saddle. Shopping for Jodhpur boots and accessories is easy on a large site like eBay, or shoppers can search locally for a pair of boots to meet their needs. Either way, gliding on horseback or strutting down the streets of London is easy in a pair of classic Jodhpur boots.