Tangerine Essential Oil
This zesty essential oil has some of the most great properties to help relieve stress and depression in ones life. Tangerine also has added benefits to help digestive problems, but is mostly used to increase circulation to the skin giving the skin a nice plumpness to the surface and helping new cells to form quicker and also reducing retention and to help prevent stretch marks.
Tangerine oil has great therapeutic properties helping sooth the nervous system and has a tonic effect on the digestive system. Whilst helping flatulence, diarrhoea and constipation.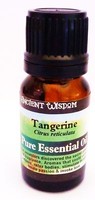 Visit Our Shop For Great Prices & Free P&P