Now that the weather is getting colder it is time to start thinking about the best, and safest way to keep our little ones warm this winter. Whilst it is easy to bundle up our children in thick snowsuits, it is important to keep in mind that it is so easy for a baby to over heat.
Small babies are unable to regulate their own temperate so it is very important to monitor your baby often. Never check their temperature by feeling hands or feet alone, instead feel for the back of their chest or neck.
If a baby gets too hot it can increase the risk of SIDS.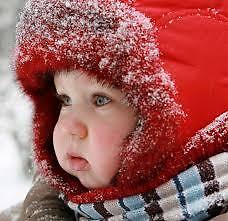 Layers
Layering is the easiest way to keep a baby snug in the colder weather. Use blankets and thinner fleece jackets to create as many layers as needed. Remember to remove layers when going indoors, for example getting into the car or going to the shops, and add them back on once outdoors.
It is not recommended to swaddle your baby tightly with the blanket.

http://www.ebay.co.uk/itm/NEW-Baby-100-Pure-Cotton-Cellular-Blanket-for-Pram-Cot-Bed-Mosses-Basket-Crib-/380781654417?pt=UK_Baby_NurseryBedding_RL&var=&hash=item58a85af191


Car seats.
Babies should never wear thick snowsuits, coats, jackets or blankets in a car seat.
To check if the coat is suitable or not to wear in the car seat, bring the seat indoors. Strap the child in with them wearing the coat and without adjusting the straps put them back in without the coat on. If you are able to pinch any slack from the harness then the coat is unsuitable.
Instead layer thin blankets over baby, or if the child is older strap them in using the 5 point harness and put their coat on back-to-front.
A footmuff is also a great way to keep baby warm in a rear-facing seat.
http://www.ebay.co.uk/itm/UNIVERSAL-CAR-SEAT-FOOTMUFF-COSY-TOES-MAXI-COSI-PEBBLE-CABRIO-FIX-BABY-NEWBORN-/221182105667?pt=UK_Baby_CarSeats_EH&var=&hash=item337f7b1843