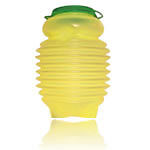 Imagine relaxing in the sun on your terrace or garden, eating or drinking outdoors, enjoying BBQ's and drinks with friends without being pestered by flies! Sounds too good to be true?
FliTrap has been specifically designed for outdoor use and requires no electricity. You simply mix the bait with water and hang in a suitable location where it catches flies for up to 25 sq metres.
Flies lays up to 200 eggs every 10 days which hatch within 24 hours. With a life span of 30 days it is easy to see why large populations of flies quickly build up and without proper preventative measures can easily become a huge problem.
By trapping the flies outside you are reducing the population and breaking the breeding cycle making seeing flies inside a thing of the past.