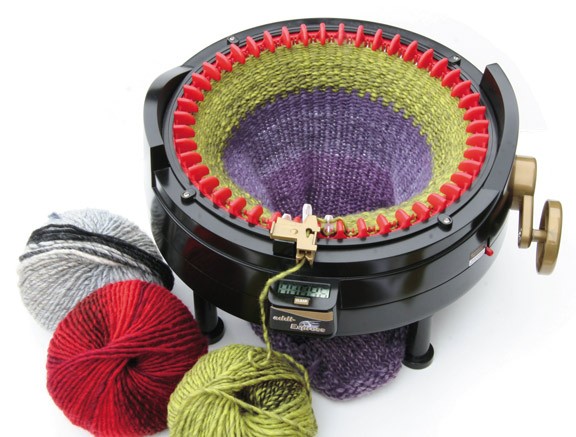 While there once was a time that it was very common for people to know how to knit, that was mainly due to the fact that it was necessary in order to clothe a family. Today, knitting is a popular hobby and craft, but in the Western world, it is done much more for pleasure than out of necessity. Learning to knit with knitting needles is a skill that takes a great deal of practice and is usually a person's first introduction to knitting.
Using a knitting machine instead opens up many creative possibilities. Before purchasing a knitting machine, it is important to know what quirks and differences exist between the many machines that are available from craft retailers, garage sales, and online from eBay. Even for those who have a good deal of experience knitting by hand, the world of knitting machines can be quite overwhelming. However, with a basic understanding of those characteristics that differentiate types of knitting machines from one another, it is possible to purchase the best knitting machine for any craftsperson.
Knitting Machine Gauges
When selecting a knitting machine, the first decision that must be made is what gauge machine to use. The gauge of the knitting machine determines what types of fabrics it can knit. The finer gauge the machine, the more delicate the yarn it requires and therefore the more delicate the fabric it can produce.
Fine Bed Knitting Machine
Knitters who want to find a knitting machine to do very intricate and delicate work, such as lace, should choose a fine bed knitting machine. These knitting machines may also be referred to as 3.6 mm knitting machines because that is the distance between the needles.
A fine bed knitting machine can create very finely knit fabrics. Because of the delicate yarn that much be used with this type of machine, it can be more difficult to use than some other types of knitting machines. Many people prefer to graduate to a fine bed knitting machine after mastering one of the other sizes.
Standard Bed Knitting Machine
A standard bed knitting machine has its needles 4.5 mm apart. This means that heavier yarns can be used with this type of machine and produces thicker fabrics. A standard gauge machine, for instance, would be appropriate for jacquard knitting or other intricate projects that are not as delicate as lacework.
Mid-Gauge Knitting Machine
A mid-gauge knitting machine is also known as a 6.5 mm knitting machine. These machines may be the most comfortable choice for hand knitters who are looking to try knitting on a machine. Mid-gauge machines can handle many different types and weight of yarn. Furthermore, the final product from mid-gauge knitting machines looks most similar to hand knit items. While there is certainly a learning curve for any knitting machine, the mid-gauge machine is likely to be easiest to learn.
Bulky Knitting Machine
As the name suggests, bulky knitting machines are designed to work with heavy, bulky yarns. The needles on this type of knitting machine are 9 mm apart, leaving ample room for much thicker yarn. The final products of a bulky knitting machine have a chunky knit. This type of machine, therefore, is ideal for someone interested in knitting very thick sweaters or other cold weather clothing like scarves or gloves.
Yarn Weight Chart
While the inexperienced knitter may think that every type of yarn is the same, it most decidedly is not. This becomes even more apparent with the use of a knitting machine because some machines simply do not work with different types of yarn. The following chart is a good reference for the different weights of yarn available and how they function with knitting machines.
| Standard Yarn Weight Number | Yarn Description | Types of Yarn | Appropriate Knitting Machine |
| --- | --- | --- | --- |
| | Lace | Fingering, 10-count crochet thread | Fine Bed |
| 1 | Super Fine | Sock, Fingering | Fine Bed, Standard |
| 2 | Fine | Sport, Baby | Standard |
| 3 | Light | DK, Worsted | Standard, Mid-gauge |
| 4 | Medium | Afghan, Aran | Mid-gauge |
| 5 | Bulky | Chunky, Craft | Bulky |
| 6 | Super Bulky | Bulky, Roving | Bulky |
Clearly not every type of yarn works properly with every knitting machine. This is why deciding what type of yarn the potential knitter uses most frequently is an important step towards choosing the best knitting machine.
Knitting Machine Materials
While there are many factors that set different makes and models of knitting machines apart from one another, one of the most immediately noticeable is the material from which the machine is made. Some knitting machines have their needle beds made from plastic while others are metal. It is easy to guess that the metal machines are generally heavier and more durable, but other than that the two types function the same way. Metal machines also tend to be a bit pricier, which may come be a deciding factor for knitters who are on a budget.
Types of Knitting Machines
Aside from the size of the knitting machine, it is also very important to consider the mechanism of the machine itself. While every knitting machine is similar in appearance and function, it can be a much different experience to knit on a manual knitting machine than on a computerised one. The right choice ultimately depends on the person who purchases and uses the machine, but be sure to consider the distinctions.
Manual Knitting Machines
While it may seem oxymoronic to call something a manual machine, there are manual knitting machines that are still quite different from hand knitting. These machines require that the knitter move the needles by hand in order to create any patterns, either with colour or with stitches. While this can be more time consuming, usually learning to use a manual knitting machine is easier for those who are new to machine knitting.
Punch Card Knitting Machines
Punch card knitting machines are capable of using a pattern punch card, but not all manual knitting machines are. Those manual knitting machines that do not have a card reader are usually able to read a punch card once a card reader is attached. Keep in mind that the card reader is not any type of computer based reading system. Rather, a card with the desired pattern is placed in the machine, and it mechanically makes changes to the needles so that the desired pattern is achieved.
Computerised Knitting Machines
Unlike manual knitting machines, computerised knitting machines use a computer to create patterns. These machines may also be known as electronic knitting machines. A computerised machine may have the computer built into it, or it may need to be hooked up to an external computer.
The benefit of choosing this type of knitting machine over a punch card machine is that the pattern can much more easily be manipulated using the computer interface than with the punch cards. However, computerised knitting machines can be much more difficult and expensive to repair in the event of an electrical failure, which is likely to happen with an older machine.
Knitting Machine Parts
When purchasing a knitting machine, even if it is a brand new knitting machine, it is important to consider replacement parts and accessories. This is because even with a new machine, parts on any machine need to be replaced periodically. The most commonly damaged parts of a knitting machine are the sponge bar and the needles. Luckily, these parts are also fairly easy to replace. Just be sure that the replacement parts are compatible with the gauge and brand of machine that is being used.
How to Buy a Knitting Machine on eBay
Because knitting machines have been around for a very long time and can last for a very long time, there are many varieties available for purchase on eBay. To find a knitting machine on eBay that meets all of your needs, you can begin by conducting a simple search. Use a general search like "knitting machine" to find many results, which you can then narrow down using the eBay filters. You can also use more specific search terms like "Knitmaster knitting machine" in order to find exactly the one that you want.
Because these are machines, you may find that a number of them are not necessarily in working order. This is why it is important to assess the condition of the machine prior to completing your purchase. Be sure to review the posted photos and product description carefully looking for any damage that may be present. You may also want to ask the seller if the machine has been properly maintained or if it has sat unused for a long period of time. The eBay interface makes this easy since you can send them a direct message through the site and expect a prompt response.
Conclusion
Delving into the world of machine knitting should not be undertaken lightly, even for an experienced knitter. There is actually a lot of important information to study and digest before purchasing a knitting machine. Even with all the proper research, learning to knit on a machine is not necessarily an easy task. However, with a degree of diligence and practice, it is certainly possible to not only purchase a knitting machine, but learn how to use one well.
Choosing a machine that is the right gauge is a good first step, but it is also important to choose a machine with the right capabilities as well as the right parts and accessories. Putting in a bit of time before purchasing a knitting machine saves time in the long run since it means whoever uses the machine has a much easier time learning to knit and creating beautiful knit items for a long time to come.