Table runners
are a terrific way to dress up your kitchen or dining room table. They are different with tablecloths covering the entire table; a table runner covers only the middle section of the table. A vintage or modern table runner is able to add a very original charm to your table. Our classical Chinese design table runners give your dining room a touch of cosmopolitan distinction. In the middle of the table, when you talk/have a dinner with your guests, this Chinese design table runner will make you and your guests feel deep Chinese culture: ancient and mysterious. Our table runners are made of smooth satin enhances the taste and style. Choose a unique textured table runner, can make home more elegant arrangement.
And here we want to share some ways about how to use table runners:
1) Normally the table runner is one-third the width of the table, The length should be 12 inches longer than the length of the table, allowing each end to hang six inches past the table edge on each end. But you also could adjust the length you like.
2) If you use tablecloth, the table runner places on the top of it and down the center of the table. The edges of the table runner should meet the edges of the tablecloth. You can adjust these lengths according to your table size.
3) Put a table runner in the center of the table directly, and place your centerpiece in the center. If you're using two or more centerpieces, place them at equal distances on the table runner at equal distances from the center of the table.
4) Use two or three table runners and place them across the width of the table to create a more contemporary appeal.
5) If your table is round, you could choose two table runners in an "X" formation across it.
If you have more good ways, please feel free tell us, we are very happy learning with you. ^-^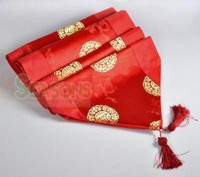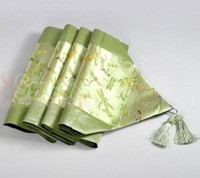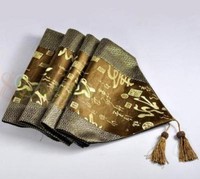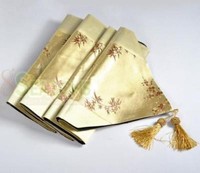 See more
Elegant Table Runners!